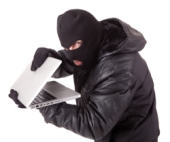 Just in case police in Brooklyn, New York, weren't aware that it was break-in day, accused burglars notified them via Facebook status update.
Here's the helpful way in which the day's events were posted by Derrin Dyson, one of 14 accused accomplices in a burglary gang known as the "Brower Boys":
"It's break-in day on the avenue."
Unfortunately for the Brower Boys, alleged gang members had unwittingly friended the Brooklyn Police Department's Officer Michael Rodriguez on Facebook.
Rodriguez's beat includes the Crown Heights section of Brooklyn, in which the gang over the past year has allegedly been prolific in activities such as climbing up onto roofs, jumping from roof to roof, climbing down fire escapes, entering windows, tying up victims, raping and impregnating one female resident, shooting a male resident, and robbery of electronics, which they then allegedly pawned or sold to bodegas and other stores.
One defendant, Terry Walley, 18, is accused of shooting a resident during a burglary.
The indictment, which includes 102 counts, also mentions that Walley got himself shot during the struggle, according to a press release put out on May 30 by the Kings County District Attorney's Office.
A Facebook feed fed clues to Officer Rodriguez in the form of status updates posted on the walls of Brower Boys members.
He didn't have to try particularly hard to fish for these clues, given that the defendants' updates included the likes of this one, from accused burglar Olurabu (aka "Sleepy") Henry:
"going to work."
Given such tip-offs, police were able to videotape several of the defendants climbing in and out of apartment windows, climbing up and down fire escape ladders and stairs, and running across rooftops.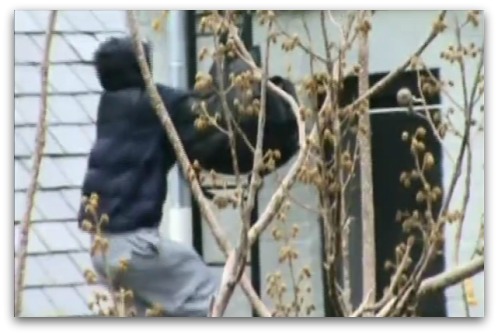 Here's one such video of a defendant climbing into and out of a building's top apartment.
The defendants range in age from 13 to 19.
Police Commissioner Raymond Kelly said in a news conference (here's the video, posted by the New York Daily News) that the alleged burglars were too blasé to shut up about their exploits, even after two other Brooklyn gangs were busted for bragging about their exploits on Twitter and other sites.
Some of the Brower Boys even joked that they could be the next targets, Kelly said:
"They talked about the possibility of the Brower Boys being next, and they signed their messages with LOL: laughing out loud. Well, there was one person who was laughing out loud, and that was Police Officer Michael Rodriguez of the 77th Precinct."
Beyond brainless Facebook posting, the accused also allegedly haggled online over the money from selling stolen laptops, Kelly said.
One member did muse that they perhaps should take the conversation offline, Kelly said:
"There was at least one member among the gang friends who didn't have much stock in Facebook's confidentiality, because he posted, 'If they was coming after the Brower Gang, you would all just gave yourselves away.'"
Another gang member retorted, "Don't say that," Kelly said, and then changed his handle from BrowerBoysBodyBags to LowKeyBodyBags.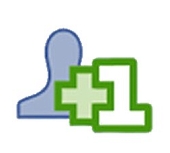 Is there any better demonstration of why you should be careful of who you friend on Facebook? I think not.
As it is, the American Medical Association has advised doctors not to friend patients, given how risky it is that they might expose confidential patient information or just risk undermining the professional nature of the doctor-patient relationship.
As for the non-medical amongst us, there are scads of stories about creepy would-be friends.
Take this one, from Sophos's Vanja Svajcer: back in February he got a Facebook friend request.
He checked out the person before deciding whether to accept the request.
In doing so, he found out that a link on the user's Facebook profile redirected his browser to a site that automatically downloaded malware onto his Android phone (check out the video).
Obviously, friending can be dangerous, as can bragging online about crimes. Be careful.
And wait. Before you tell us how the police shouldn't have given away their sleuthing procedures and that we likewise shouldn't write about them (as have many commenters on the news coverage), ask yourself this:
If criminals don't already know that police use Facebook, Twitter or other online media, do you really think they're smart enough to figure it out now?
Burglar with laptop image courtesy of Shutterstock.