Apple CEO Tim Cook, and his senior executives, took to the stage at WWDC (Worldwide Developers Conference) in San Francisco earlier today.
As well as announcing upgrades to some of the firm's laptop hardware, and discussing new features coming in Mountain Lion and iOS 6, they also found it impossible to resist taking the opportunity to crow about Apple's success at getting users to run the latest version of its mobile operating system.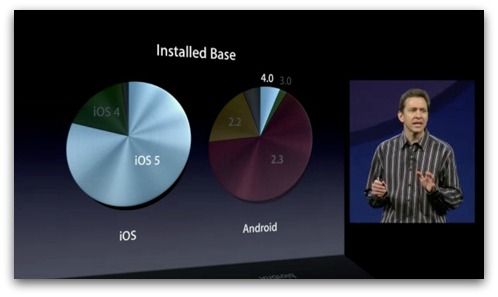 Scott Forstall, Apple's senior vice president of iOS software, told the developers assembled at the conference that over 80% of iPhone and iPad users are running iOS 5. That compares to a paltry 7% of Android customers who are up-to-date and running Android 4.0 (Ice Cream Sandwich) on their smartphones and tablets.
According to the stats that Forstall presented, most Android devices are still running version 2.3 (Gingerbread) of the operating system.
I bought an Android smartphone a few years ago, but ultimately the thing which turned me off the experience was the sheer difficulty in keeping its operating system up-to-date. With Android, you need Google, your cellphone provider and your manufacturer to all agree to push out a new OS update.
The reason for the complexity is that the version of Android for your particular smartphone may have to be tweaked to work properly on your specific device. That requires work by the hardware manufacturer, and then the cellphone provider has to also agree to roll out the update.
With an iPhone or iPad, all you're waiting for is Apple to publish an update or security fix. They have total control over the hardware, and can deliver the update directly to you via the internet.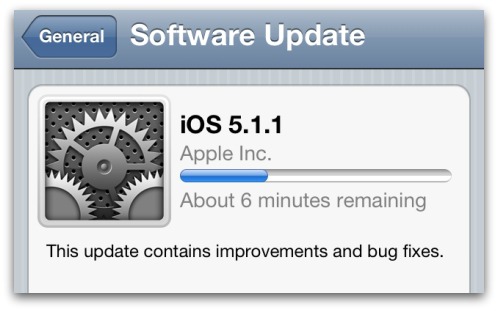 If a vulnerability is discovered, I want my mobile phone to be patched as quickly as possible – not feel that I have to rely upon multiple third parties or go completely off-road and root the device to install someone else's custom-tailored ROM.
I'm not saying that Apple always gets it right, or that there isn't room for improvement in the firm's responsiveness and openness to security issues (see their tardiness in relation to patching Java security holes earlier this year, for instance), but the numbers don't lie.
If Apple's stats are true, and they seem believable to me, iPhones and iPads are more likely to be running the latest shipping version of their OS than competing Android devices.
And that's not just going to help them in terms of bells-and-whistles and new features, but also with security fixes.
Do you agree that it's harder to keep Android devices up-to-date with the latest version of the operating system? Or is the problem exaggerated? Let us know your thoughts by leaving a comment below