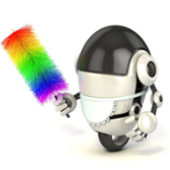 A few months ago, Naked Security announced the launch of a free Virus Removal tool from Sophos. To date, this free tool has been downloaded by 150,000 users.
Naked Security readers (that's you) were also invited to share their thoughts – good and bad – on the tool. We received a glut of valuable feedback, which has helped guide Sophos developers on how to prioritise enhancements and bug fixes.
The most surprising feedback we collated was that a whopping 27% of you said Sophos's free virus scanner found malicious files, and this is despite almost all of you running an existing anti-virus.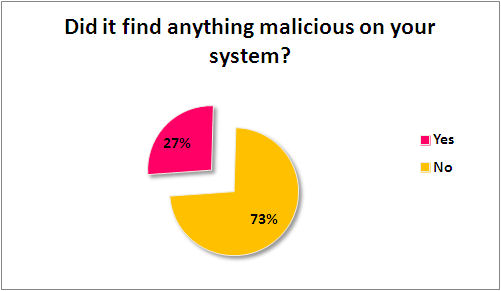 The good news is that 96% of you said it was Easy to download and use, and 90% said it was Super easy to run and understand the results.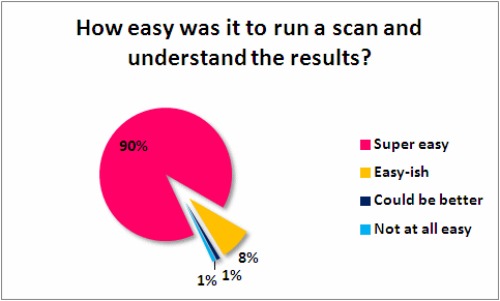 But the development team does want to improve the following number: while 57% said you found it better than other virus removal tools, 30% said it was the same or worse.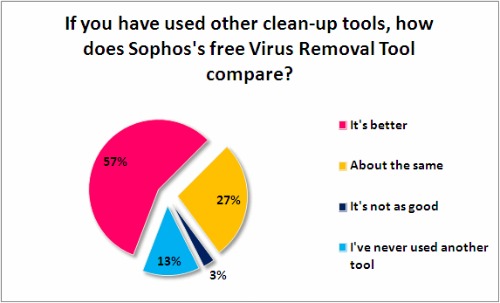 Sophos's aim is, to put it politely, beat everyone else's efforts hands down, so they want to knuckle down and make further improvements.
The top three issues readers fed back to Sophos were
Speed up scanning time
Improve malware clean-up
Incorporate auto-update capabilities
Yesterday, Sophos released an update to the Sophos Virus Removal Tool. SophosLabs Product Manager Shai Gelbaum says:
The user feedback was tremendously useful. We optimised the scanning time, and most users should see a 20% improvement in speed. We also focused in on better malware cleanup capabilities. Clean-up failures were largely due to coding glitches. We combed through it and fixed as many as we could find.
Our next release, scheduled for September this year, will include an auto-updater. This is not a trivial add-on. We would have loved to have put it in this version but there simply wasn't enough time. The auto-updater will ensure you are running the very latest version with the latest detection and clean-up capabilities. We are also improving the user interface to better inform users on on what is happening, what is found, etc during each scan.
A big thank you to everyone who gave us feedback. Please keep it coming. It is a beacon for us in the R&D team, and I can assure you that we are all ears.
Until the auto-update version of this tool is available in September, we would urge you to download the latest version:
And please consider giving us your thoughts on this version:
Click to share your views, and a chance to win 1 of 3 goody bags
NOTE: Congratulations to Mike from Australia and Anthony from America for winning the first round of goody bags.