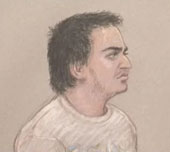 The sorry saga of Ryan Cleary, now 20 years old and an alleged hacker from the group LulzSec (remember them?), continues to unfold.
Cleary was arrested in the UK about a year ago.
He was charged with offences under the Criminal Law Act and Computer Misuse Act.
The UK charges claim that Cleary built a botnet to launch DDoS (distributed denial-of-service) attacks against the likes of the Serious Organised Crime Agency, the International Federation of the Phonographic Industry (IFPI) and the British Phonographic Industry (BPI).
Cleary was released on bail, but re-arrested and remanded in custody earlier this year. It seems he breached his bail conditions by going online over Christmas and contacting another LulzSec member.
Yesterday, Cleary was further charged with federal offences in the USA, having been indicted by a grand jury in Los Angeles.

Ryan Cleary, 20, a resident and citizen of the United Kingdom, is currently incarcerated while facing foreign prosecution in England related to his hacking activities. The indictment, filed on June 12, 2012, in United States District Court in Los Angeles, charges Cleary with one count of conspiracy and two counts of the unauthorized impairment of protected computers.
Grand juries – so-called simply because they have more members than a trial jury – are a constitutional requirement at the federal level in the USA. They do not decide innocence or guilt but whether criminal charges should be laid in the first place. They serve the same purpose as commital hearings in other jurisdictions.
Cleary is facing similar charges in America to those he is up against in the UK: running a botnet and using it to mount DDoS attacks.
He's also facing conspiracy charges in the USA for the succour it is alleged he gave to the LulzSec group, such as providing server and messaging resources to LulzSec members.
The FBI further states, unflatteringly to the accused, that "when an associate of Cleary's was questioned by law enforcement regarding LulzSec's activities, Cleary allegedly instructed the associate to falsely accuse an innocent party."
However much fun he thought he was having at the time, one thing is obvious: Cleary faces a world of hurt ahead, especially if the US authorities decide to seek his extradition.

–