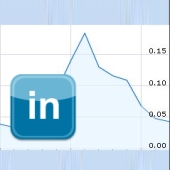 We used to see a lot of pump-and-dump stock spam.
Pump-and-dump stock manipulation works like this:
Spammers purchase stock in companies trading at very low levels, at a cheap price
The spammers artificially inflate the stock's price by encouraging others to purchase more (often by spamming "good news" about the company to others).
They then sell off their stock at a profit, often causing the stock price to slump for those who made the mistake of investing.
Global recession, jail sentences, and tighter regulation by the SEC seemed to largely kill off stock spam a few years ago.
So, we were interested when Naked Security reader Ivan forwarded us an unsolicited email he received, claiming to come from a user of LinkedIn: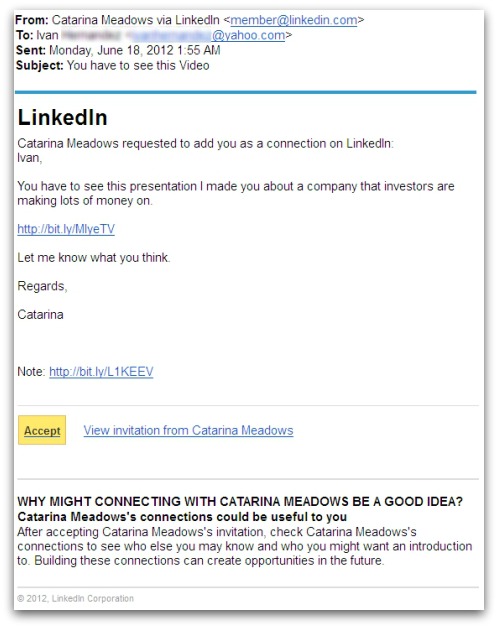 Catarina Meadows requested to add you as a connection on LinkedIn:

Ivan,

You have to see this presentation I made you about a company that investors are making lots of money on.

[LINK]

Let me know what you think

Regards,
Catarina
Ivan was correct to smell a rat. If you click on the link you are taken – via a Bit.ly url shortener – to a YouTube video promoting stock in a company called Neologic Animation Inc (trading as NANI), which appears to make Flash-based educational software primarily targeted at the Chinese market.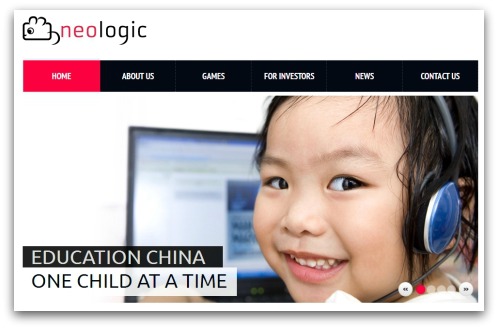 NANI is not a heavily traded stock, with shares currently selling for approximately 10 cents each.
The spammed-out video, which was posted on YouTube earlier this month and has already received over 25,000 views, tries to convince you that Neologic Animation is a company going places, and appears to suggest that investment would be a good idea.
However, make sure you read the disclaimer at the end of the video's sale pitch..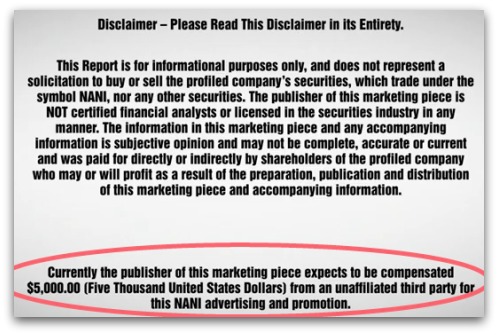 Currently the publisher of this marketing piece expects to be compensated $5,000.00 (Five Thousand United States Dollars) from an unaffiliated third party for this NANI advertising and promotion.
One wonders why an unaffiliated third party might be promoting the Neologic Animation stock so aggressively? What could be their motivation for spamming LinkedIn users (judging from the comments on the video, other LinkedIn users have also received the links)?
Is it possible someone is trying to pump up the stock price of NANI? That seems the most likely explanation to me.
Oh, and by the way, I haven't managed to find anyone called Catarina Meadows on LinkedIn.