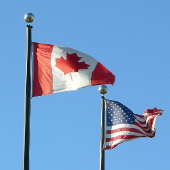 Today is the 145th anniversary of the founding of the Dominion of Canada and this week our American readers will be celebrating Independence Day for the 236th time. I am a citizen of both nations and am quite proud of what each of them have accomplished.
As with any event that impacts a large number of people, cybercriminals are always on the prowl, so we thought it might be helpful to post some tips for staying safe online during these summer holidays.
Keep an old Apple Powerbook handy (note: *must* be pre-Intel and pre-OS X, so check that those ageing batteries can still hold charge!) in case you find an enormous alien spaceship hovering overhead on the Fourth.
Be wary of posting photos and videos of your "perfectly legal in the state where I purchased them" fireworks. The internet is a public place and no matter how much you drink, the internet never forgets.
There are now officially fewer than six months' worth of online shopping days until Christmas! Watch out for festive season scams, such as warnings about how many online shopping days there are until Christmas, which tend to start popping up about now.

When buying Canada Day vacation weekend specials online, NEVER confuse the Sydneys (Nova Scotia and New South Wales) or the Torontos (New South Wales and Ontario). The differences can be enormously costly in both time and money. And if you do make a blunder, DON'T FORGET YOUR PASSPORT.
The vast majority of the world's workforce aren't American and won't have a clue why 04 July should enjoy any special significance from a computer security company. Therefore reading about it anyway will make them feel right at home, because it will remind them of the Stuxnet virus, which passed away on 24 June 2012.
When looking for something to kindle that fire to start the BBQ for your picnic, consider shredding sensitive documents and using the resulting confetti for tinder. Fills your belly while protecting your privacy.
When you get advice to be extra careful because of a public holiday, or your monarch's diamond jubilee, or both, apply the advice on that day only, on the assumption that the crooks are unashamedly waiting for you to do something silly on holidays.
When you get advice to be extra careful because of a public holiday, or your monarch's diamond jubilee, or both, apply the advice on every day except the one suggested, on the assumption that the the crooks will be trickily double-crossing you with the whole holiday thing.
Lastly, if you have difficulty differentiating between Americans and Canadians when they visit your country, check out this video for some tips (or watch William Shatner's take on it).


Happy 4th of July/Independence Day/Canada Day/Dominion Day/Nice Summer Weekend and until next time… Stay secure.
Special thanks to Paul Ducklin for helping formulate many of the tips.