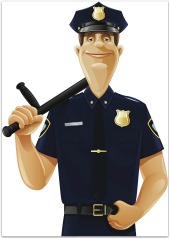 Los Angeles police are the latest to embrace "predictive policing." This technique replaces colored pins on maps with databases that identify crime hot spots based on past crimes and patterns.
The new technology, first rolled out in the San Fernando Valley late last year, is being credited with double-digit drops in burglaries and other property crimes.
The Associated Press reports that over the last 10 years, large police departments, like New York City's and Los Angeles's, have been using the similar, less sophisticated CompStat system to track trouble spots.
The LAPD and police in Santa Cruz, Calif., are now using a new program claimed to be more timely and precise.
Here's how the AP story describes it:
Built on the same model for predicting aftershocks following an earthquake, the software promises to show officers what might be coming based on simple, constantly calibrated data — location, time and type of crime.
Writing for Police Chief Magazine, LAPD Chief of Detectives Charlie Beck and Colleen McCue, president and CEO of MC2 Solutions, compared the technology to Wal-Mart's just-in-time stocking of Pop-Tart pastries for stores located in the path of storms.
(Apparently, consumers in danger of storm shortages eat a lot of Pop-Tarts. Specifically, strawberry. Who knew?)
Rather than boost the number of arrests, the AP reports, the goal of predictive policing is to intercept a crime in progress or to deter would-be criminals.
The AP quotes Jeff Brantingham, an anthropology professor at the University of California, Los Angeles, who said the data is in part derived from the criminal behaviors of repeat victimization and the notion that criminals tend not to stray too far from areas they know best:
"If you are victimized today the risk that you'll be a victim again goes way up," said Brantingham, who co-founded a software company tapped by LAPD for its program.
It must be working: crimes declined in the predictive policing target area 13 percent following the software rollout, compared with a slight increase in the areas of the city where the program wasn't used.
What could possibly go wrong?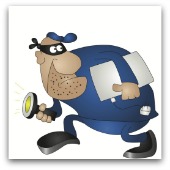 To answer, we could take a look at Los Angeles's Suspicious Activity Reporting (SAR).
As Uzma Kolsy wrote for Salon, SAR has its roots in the 1970s and 80s, starting as "a large-scale domestic spy operation" that enabled Los Angeles police to snoop on and infiltrate political, labor and civic organisations, including the office of then Mayor Tom Bradley.
The LAPD might not go that far nowadays, but they're still empowered by a directive titled Special Order 1 that permits officers to dub something "suspicious" and then act on it.
Kolsy writes:
"Where things get murky … is how SAR guidelines categorize constitutionally protected, non-criminal and commonplace activities such as using binoculars, snapping photographs and taking notes as indicators of terrorism-related activity. The SARs are coupled with the LAPD's iWatch program, a campaign the police pioneered to encourage regular citizens to report 'suspicious' activity, including 'a person wearing clothes that are too big or too hot for the weather,' or things that just plain old don't 'look right.'"
Clothes that are "too big or too hot for the weather"? You can't read that without thinking of hoodies, which is reminiscent of incidents such as the tragic, fatal shooting of Trayvon Martin by George Zimmerman.
The National Institute of Justice holds symposia on predictive policing. During one, a panel on privacy and legal issues acknowledged that SAR holds lessons about the importance of establishing a privacy policy to help keep predictive policing from becoming a black hole for civil liberties.
Other conclusions from a break-out session on privacy:
There is a rich history dealing with privacy and mistakes, and these issues have yet to be resolved
There will come a time when training in privacy issues is considered as important to a policing program as the firearms policy
Transparency is critical to establishing community trust
Understanding the behaviors that have a nexus to crime provides a valid law enforcement purpose
Predictive policing must be constitutional.
OK. Fine. Good.
One thing: why aren't privacy issues as important as a firearms policy now?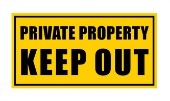 What's stopping police from making privacy issues a priority? The mere fact that privacy isn't given the same importance as guns should perhaps give us all pause when it comes to predictive policing.
If police want communities to embrace this technology-enabled initiative, they should make a good faith effort to train officers on privacy policy and beef up (or institute) anti-profiling training.
Image of police officer courtesy of Shutterstock
Image of neighbourhood courtesy of Shutterstock
Image of thief courtesy of Shutterstock
Image of Keep out sign courtesy of Shutterstock.