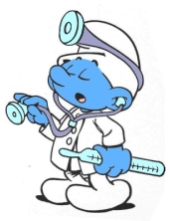 A hacker who went by the online moniker of "Dr Smurf" on the underground DarkMarket cybercrime forum has pleaded guilty to charges of identify theft.
Tadas Petrauskas, a 23-year-old Lithuanian hacker who lives in Brick, New Jersey, was caught in 2008 after selling login names and passwords for $2,000 to an undercover FBI agent, and admitted breaking into computer systems and selling stolen credit card details via the DarkMarket website.
Unfortunately for Petrauskas, DarkMarket had been secretly under the control of FBI agents since 2006, who were using it as a means to gather information on those involved in computer crime.
The FBI were able to gather evidence from "Dr Smurf"'s email accounts, and arrested Petrauskas at JFK airport in New York, after he arrived on a flight from Belgium.
Petrauskas is scheduled to be sentenced on 30 October. Although unlikely that he will receive the maximum sentence, Petrauskas could technically face up to five years in prison for his crimes.
This shouldn't need to be said, but let me say it anyway. Don't hack into computers which don't belong to you. Not for fun. Not for money. It's against the law, and if you are caught the penalties you end up paying could be very serious.
If you're interested in learning more about DarkMarket, you should read Elinor Mills' great article at CNET where she interviewed FBI agent J Keith Mularski, who posed as a hacker called "Master Splynter", to infiltrate the underground forum: Q&A: FBI agent looks back on time posing as a cybercriminal.
Hat-tip: TribLive.