As local media reported, hundreds of thousands of people gathered at San Diego Bay on July 4th to see what should have been one of America's biggest Independence Day firework spectacles.
But a computer malfunction meant that the planned 17 minute fireworks display was condensed into a 15 second firestorm.
Confused spectators waited for what they believed was going to be the rest of the show, but were told that the event was cancelled and sent home disappointed.
There are numerous videos of the "Big Bay Boom" event on YouTube, but this is my favourite because of one audience member's reaction at the end of the clip.
Some of the media reports have claimed that a virus was responsible for thousands of fireworks on four barges to be fired at the same time.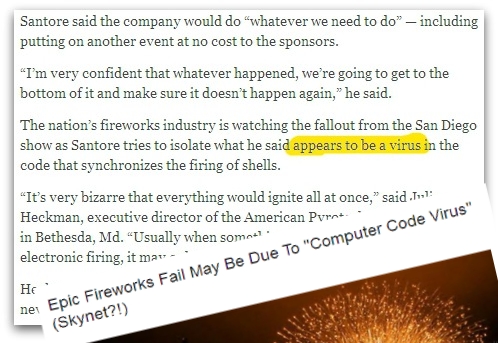 Was a computer virus really to blame for the firework farce? I doubt it.
It sounds more like a bug in the code which co-ordinated the firework display, or a mistake in the system's configuration, that caused the pyrotechnics to all explode at once.
But it's so much easier to blame a malware author's code for a computer problem, and brush off some of the responsibility for a screw-up. It's also a lazy explanation for journalists who don't want to trouble readers with more plausible explanations.
So it doesn't surprise me that a virus is being fingered as the culprit for how the "Big Bay Boom" became a Big Bay Bust.