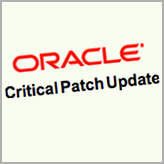 Yesterday Oracle released its latest CPU, which fixes 87 vulnerabilities in 13 different product sets.
There are five vulnerabilities in Oracle Database Server products, four of which could allow remote code execution without authentication.
More importantly Oracle addresses CVE-2012-1675 in this bulletin. They address it by saying it is too hard to fix, they don't plan on fixing it and you should follow the workarounds from the April 2012 bulletin. Sad.
Other important fixes include 22 flaws in Oracle Fusion Middleware, 9 in PeopleSoft, 7 in Siebel and 21 in Solaris. They also fixed six flaws in MySQL, fortunately none of which can result in remote code execution.
Considering many of these bugs are quite old and Oracle doesn't mention whether the flaws were disclosed responsibly it is prudent to treat all of these patches as high risk.
By the way, this Critical Patch Update (CPU) is a small one by Oracle's standards. Unlike Microsoft's patching schedule, Oracles saves up its patches for a quarterly release.
But Oracle patches Java in February, June and October and everything else in January, April, July and October.
The confusion doesn't end there. Instead of picking a predictable day, like Microsoft's second Tuesday, Oracle releases fixes on the Tuesday closest to the 17th of the month in question.
Just to make it clear, the next four updates for Oracle products that are not Java are 16 October 2012, 15 January 2013, 16 April 2013 and 16 July 2013.
So for goodness sake, make sure you apply all the updates, implement the workaround, and set a reminder in your calendars for future updates.
Paul Ducklin and I recently did a podcast on patching best practices. Sadly, Oracle doesn't make it easy to streamline patching its products, but if you use Oracle products you need to come to terms with how to use them safely.