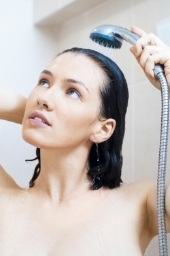 For a long time perverts and cyberstalkers have been getting kicks out of secretly snooping on female victims via webcams.
There's clearly a type of man (sorry for being sexist, but all the examples I have found online have male culprits) who gets a thrill out of secretly spying on young women in their bedrooms.
In the most harrowing cases young women are actually blackmailed into posing naked by hackers threatening to distribute compromising photos.
Pretty sick stuff.
Which brings us to 21-year-old Trevor Harwell, of Fullerton, California, who has just been jailed after he installed spyware onto victims' laptops, and displayed a bogus error message to increase the chances of capturing nude pictures and movies.
And what was the error message?
"You should fix your internal sensor soon. If unsure what to do, try putting your laptop near hot steam for several minutes to clean the sensor."
As we reported last year, Harwell's scheme successfully tricked a number of young women into taking their laptops into their bathroom while taking a steamy shower.
Thousands of secretly taken taken still images, videos and cellphone videos were found on Harwell's computer, who had plenty of opportunity to install the spying software onto his prospective victims' computers, because he worked part time as a "friendly" computer repairman.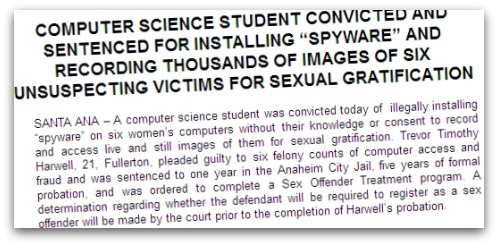 Of course, there was nothing to prevent a snooped-upon victim being under-age.
It's true for people of any age, but young people's PCs must be properly protected with the latest anti-virus software, security patches and firewalls. It is also essential that young people are taught how to behave safely online, to avoid being exploited by sick-minded hackers.
Harwell was sentenced to one year in the Anaheim City Jail, five years of formal probation, and has been ordered to complete a Sex Offender Treatment program.
You can make up your own joke about how he better be careful in the jail's showers…
Woman in shower image from Shutterstock.