Google has been trying, sweetly, a little pathetically, and ultimately futilely, to clean up the inflamed boil that is YouTube commentary, by pleading with commenters to use real names when posting.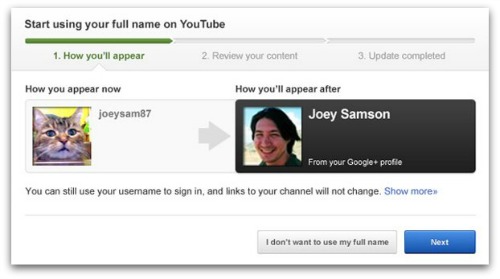 In late June Google introduced the first pleading nudge toward real name usage on YouTube, giving – not requiring, mind you – users the ability to use their Google+ profiles on their YouTube channels.
Here's a blueprint of the begging sequence, adapted from PCWorld's rendition.
(For some reason, Google didn't ask me to use my real name when I commented on an Eddie Izzard clip to test it all out):
A YouTube user attempts to comment on a video.
A box pops up asking that person to start using their full name.
The person's name is taken from his/her Google+ account, since Google requires the real name of someone signing up for a Google+ account (unless you're a celebrity, that is).
After the "start using your full name" box appears, users can refuse to start using their real names.
If users refrain from using their full names, another pop-up asks them to justify the decision by selecting from choices that include:
My channel is for show or character.
My channel is for a music artist of group.
My channel is for a product, business or organization.
My channel is well-known for other reasons.
My channel is for personal use, but I cannot use my real name.
I'm not sure, I'll decide later.
According to people who find themselves on the receiving end of such a request, Google next offers to help users review their YouTube content before their full names are displayed and makes clear that they can switch back to usernames at any time.
After three weeks of this prodding, the verdict is in: YouTube comments are still a vile swamp.
Rather than replicate a string of comments that would demonstrate the persistently speaking-from-the-sphincter nature of a lot of YouTube commentary but which would also necessitate the overuse of asterisks to avoid profanity, I'll point you to a representative list compiled by Gizmodo's Leslie Horn.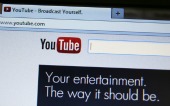 The list shows that much of YouTube's commentary content, regardless of whether it's posted by people with real names or pseudonyms, remains, as Horn notes, racist, ignorant, creepy, underage, psychotic, incoherent, homophobic, and/or, to be euphemistic, sphincter-ish.
If there is one argument against real names requirements, it's that YouTube users such as the0nlyM3xicantSAG might not post entertaining commentary such as:
You seem like you have 3 brain cells; 2 of them are wrestling, and the other one's eating glue.
Of course, there's been ongoing debate about online anonymity ever since Google+ banned pseudonyms for everybody except Lady Gaga and 50 Cent.
Are real names really about promoting online civility and accountability, or is it more likely, as suggested by Next Media Animation in its YouTube clip about the Google+ nym wars, that real names are just a lot easier to sell to advertisers?
I sympathize with anybody who wants to elevate discourse above the Greater Internet F**kwad Theory, an equation that goes like this:
Normal Person + Anonymity + Audience = Total F**wad.
But realistically, for many people, there are valid security reasons for not using real names.
A year ago, when Google first instituted its real-names policy for Google+, Kirrily "Skud" Robert collated a list of reasons why people prefer to use pseudonyms.
As of July 25, 2011, he had received over 100 reasons from people who had had their accounts suspended by Google for name-related reasons.
Here are some: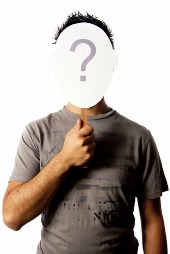 "I do not feel safe using my real name online as I have had people track me down from my online presence and had coworkers invade my private life."
"I've been stalked. I'm a rape survivor. I am a government employee that is prohibited from using my IRL."
"I've been using this name for over 10 years in the 'hacking' community. There are a nontrivial amount of people who know me *only* by that name."
"We get death threats at the blog, so while I'm not all that concerned with, you know, sane people finding me. I just don't overly share information and use a pen name."
"This identity was used to protect my real identity as I am gay and my family live in a small village where if it were openly known that their son was gay they would have problems."
"I have privacy concerns for being stalked in the past. I'm not going to change my name for a Google+ page. The price I might pay isn't worth it."
The profitability of selling real names to marketers doesn't even come close to outweighing the importance of anonymity to people like those in Skud's list.
Let's hope that Google learned a valuable lesson from the pushback it got over its real-name policy.
Let's hope it doesn't push past this current polite pleading with YouTube users.
Let's hope it never makes real names mandatory.
Let us know in the comments below whether Google's real-name plea has any sway on how you post online comments.
YouTube login image courtesy of Annette Shaff / Shutterstock.com
Hidden identity image, courtesy of Shutterstock
YouTube full name request image courtesy of YouTube blog