Facebook has released statistics showing that it believes there are more than 83 million fake accounts on its social network.
Some 8.7% of the site's 955 million users are believed to be bogus, according to documents that the company filed with the Securities and Exchange Commission (SEC) earlier this week.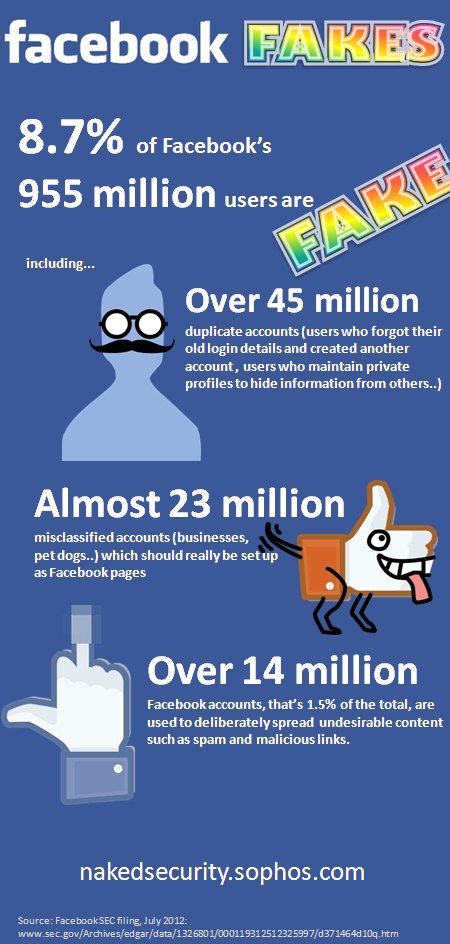 According to Facebook, the biggest proportion of the bogus accounts (4.8% of all accounts on the network) belong to users who maintain duplicate accounts.
Why might you want to have more than one account? Well, I know a primary school teacher who doesn't want her pupils to see what she gets up to socially (and the drunken pictures her friends might post of her at wild parties) and so she maintains one "professional" account (under her real name) and another "personal" account under a nickname.
Of course, such behaviour (the ownership of more than one account, not the partying) is in violation of Facebook's terms & conditions.
That clearly isn't bothering some 45 million users, however.
Then there are what Facebook calls "user-misclassified" accounts. Those users who have created personal profiles for their business, their boat, their pet, or some other non-human entity.
Facebook claims that approximately 2.4% of the accounts on its network are mis-classified in this way, and that really the owners of those almost 23 million accounts should create a page for their business/pet/etc instead.
Finally, and perhaps of most interest to Naked Security's readers, we come to the 1.5% of accounts that are categorised as "undesirable". Over 14 million Facebook accounts are used for the primary purpose of sending out spam or other malicious links and content.
Why does this matter? Well, clearly all Facebook users are interested in the site becoming a safer place, and the level of spam and malicious links being minimised. But more than that, companies who are considering advertising on the social network want to be sure that any "likes" they receive are from genuine users, not bogus accounts.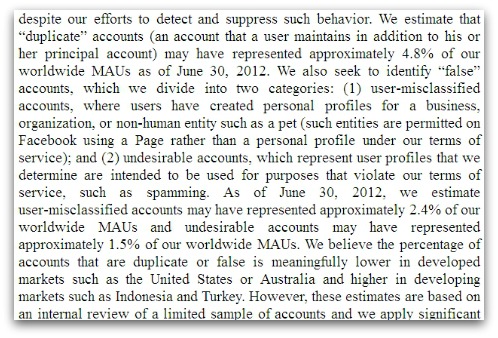 Interestingly, Facebook says that the percentage of fake accounts is higher in developing markets such as Indonesia and Turkey, than in countries where the social network is more established.
That was certainly experience of BBC News Technology reporter Rory Cellan-Jones, who recently explored the value of Facebook advertising by creating a page about "Virtual Bagels" and was flooded with fans from Egypt, Indonesia and the Philippines – with many of the accounts obviously false.
Of course, it's far from simple for Facebook to determine reliably if every account is fake or not, as anybody can create an account with a bare minimum of credentials. What remains to be seen is whether the proportion of dodgy accounts on Facebook continues to grow, and if the site's advertisers view it as a problem.