Have you ever had to explain phishing to your Grandma?
Are you tech support for friends and family?
If so, then the Sophos Threatsaurus is just the book for you to give to them. This one-minute video shows you why:
(Enjoy this video? Check out more on the SophosLabs YouTube channel.)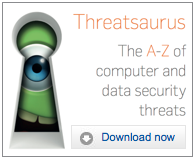 Whether you're an IT professional, use a computer at work, or just browse the Internet, this book is for you.
We explain the facts about threats to your computers and to your data in simple, easy-to-follow language.
Download the hot-off-the-press 2012 edition Threatsaurus now!
(Direct download. No registration, no password, no email address.)

–