Google receives a lot of URL takedown requests – 4.5 million in the past month alone.
To address this problem, the search giant says it will push "bad" sites (those with allegedly copyright infringing content) further down its ranked search results, with the aim of helping users find quality sources of legal content more easily.
A recent blog post from Amit Singh, Google's senior vice president of engineering, announced that it will use around 200 signals – an important one being the number of 'valid copyright removal notices' – to dictate how their "search algorithms deliver the best possible results."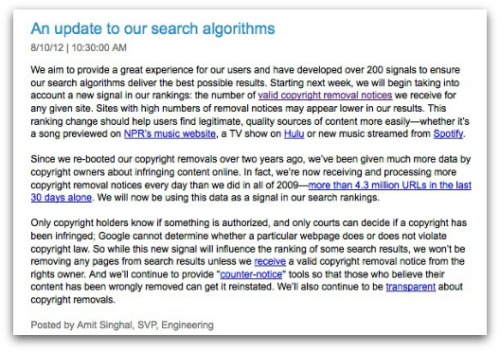 Sites with a high number of notices will be pushed to the bottom of the pile, but they will not actually be removed. Counter-notice tools will also be available to pursue reinstatement for those wanting to challenge the decision.
Google's Transparency Report stats paint a picture of an overwhelming volume of take-down requests coming from copyright owners and reporting agencies, particularly since May.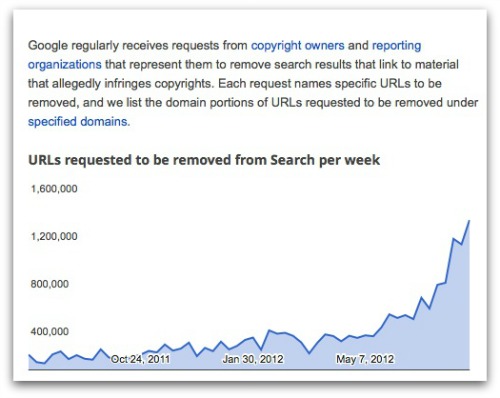 Last month, the Recording Industry Association of America (RIAA) sent nearly 850,000 removal requests, the British Recorded Music Industry just over half a million, while requests from Degban, a copyright protection company, exceeded one million.
The response from the British Recorded Music Industry representative voice, BPI, to Google's new policy is certainly as expected.
We have argued for some time that sites with a lot of illegal content should feature lower in search rankings, based on the notifications we send to Google... we welcome the announcement from Google and will be pressing other search engines to follow suit.
However, not everyone is happy with Google appeasing the copyright industry with this approach.
The Electronic Frontier Foundation (EFF) is concerned that take-down notices are simply accusations of copyright infringement.
...demoting search results – effectively telling the searcher that these are not the websites you're looking for – based on accusations alone gives copyright owners one more bit of control over what we see, hear, and read.
The EFF also claims that Google has insufficient information to justify dropping search results down the list.
Although the point of the action is to reduce the prominence of 'dubious' allegedly pirate websites, sites with legitimate legal content, like YouTube and Flickr, might surely be at risk as well.
Google says because take-down notices are just one of many factors used for ranking search results, legitimate content will remain unaffected.
But it also stresses that the search engine will not create a 'whitelist' to exempt certain sites. This means that established sites like YouTube will be treated just like all the others.
TechDirt points out that not only should Google resist responding to insatiable big business demands, it also says that demoting websites with alleged pirated content simply won't work.
Problematically, this practice assumes that users are too stupid to spot the difference between legitimate and illegal links.
The people doing such searches know exactly what they're looking for. The real problem is not that Google is showing it to them, it's that the traditional entertainment industry players aren't providing users what they want.
I can appreciate the balancing act Google is facing: pressures to do more to address infringement from the copyright industry on one side and the importance of maintaining a trusted service to its user base.
By treating the symptoms of copyright infringement, the worry is that it is ignoring the root cause. Rather than go down this road, perhaps big content providers should think hard about why users illegally download in the first place and respond by delivering content in ways that truly reflect consumer demand.
Google image image courtesy of Shutterstock