Yesterday, we wrote about how Michael Dell's daughter had been too open with details of her family's activities and location, and gave some advice on how to post wisely on social networks. One of our readers, James, then left a comment on the story alerting us to WeKnowYourHouse.com.
Calling itself "another social networking privacy experiment", WeKnowYourHouse scours Twitter for people using the word "home" in their tweets and picks up their associated geolocation, then publishes said tweet to its site along with information about where the tweeter is.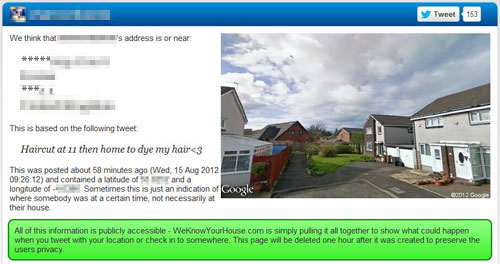 The site tells you where the person is, plots them on a map, shows you the Google Street View picture of that location, tells you nearby places they've found on Foursquare, crime statistics for the area, local photos posted to Instagram near that location, and even shows an advert where you can "Meet local sl**s". Nice.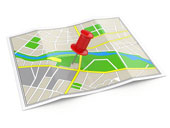 The site promises that it only keeps the last hour of data, and then fully deletes it, but it's scary to see how much information can be compiled against someone so quickly, using information that is freely available.
It reminds me of the "NeedADebitCard" Twitter account, which scans Twitter for the words "debit card" and an associated photo, and then publishes the photo and tweet.
It's crazy how much personal information people keep pumping out for the world to see. To repeat part of Duck's advice:
Turn geolocation services off. Giving out regular and precise updates of your whereabouts is convenient - but you should consider your location to be a form of PII (personally identifiable information).
WeKnowYourHouse agrees: "Our advice is don't check in at your own home, whether using Twitter with locations, Foursquare, Google Latitude, or any other location-aware service, because you're telling the world exactly where you live."
But what do you think? Is it a useful site to make people aware of the risks of having location services turned on? Or is it an invasion of privacy, pulling all the information together as an "experiment", when these people haven't opted in?
Map with pin, courtesy of Shutterstock