The fallout over the controversial conviction of the Russian punk band Pussy Riot continued on Tuesday, with hackers compromising and defacing the Web page of Moscow's Khamovnichesky Court, where the three band members were sentenced on Friday.
Hackers posted messages calling for the release of band members and a music video by the gay Bulgarian singer, Azis, on the court's website after exploiting an unknown vulnerability.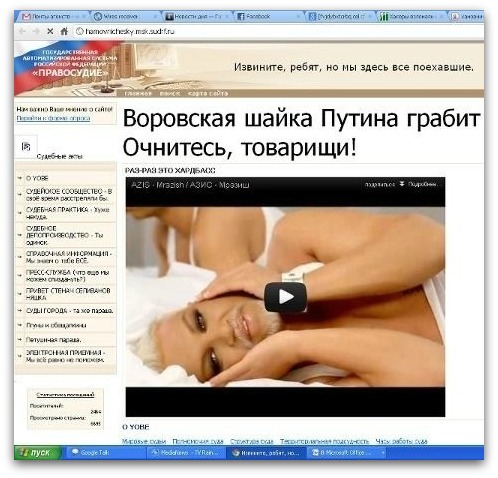 In a statement to the Interfax news agency, court press officer Darya Lyakh said that the attackers had "bad imagination" and that security experts were trying to determine how attackers were able to breach the site's security.
The courthouse was recently the stage for the very public trial of the three person punk band, Pussy Riot, who were accused of "hooliganism" for performing a song that criticised Russian President Vladimir Putin at the Cathedral of Christ the Savior in Moscow.
The feminist rock band is known for donning ski masks for performances and expressing criticism of Russia's political leaders, with songs like "Putin Lights up the Fires".
The case garnered international attention and media coverage, with pictures of the three defendants, band members Yekaterina Samutsevich, Maria Alyokhina and Nadezhda Tolokonnikova, confined within a glassed-in detention area dubbed "The Aquarium."
The three were sentenced to two years in prison on Friday, including the five months they have already spent in detention, with judge Marina Syrovoy saying that the trio had offended the Russian Orthodox Church and threatened public order with their performance, language and dress.
The case and ruling prompted protest concerts around the globe and statements of concern from foreign governments.
The British Foreign Office Minister, Alistair Burt, issued a statement saying he was "deeply concerned by the sentencing" of the three band members, calling it a "disproportionate response to an expression of political belief."
Amnesty International called the ruling a "bitter blow for freedom of expression" in Russia.
It was unclear Tuesday who was behind the attack. BBC reported that the defaced webpage contained a statement claiming the "American group Anonymous" was behind the defacement.
Twitter accounts associated with the group including @AnonymousIRC expressed support for the band, but pointedly did not take credit for the hack.
Support for the band ran high on Twitter Tuesday, with users – many of them Russian-speaking – expressing support for the group using tags like #russianrevolution.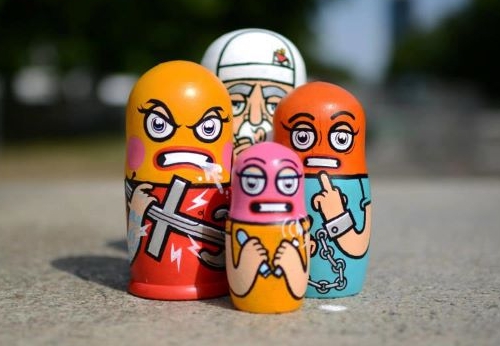 Images circulated of traditional Russian Matryoshka dolls decorated to resemble the three ski-mask clad band members in shackles.
Others protested the harshness of the band's sentence. "I feel PussyRiot give one year's imprisonment, not two, in the end," wrote one Twitter user.