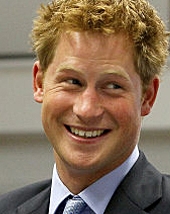 The internet seems to have caught fire after celeb gossip website TMZ posted what appeared to be images of Prince Harry caught playing "strip billiards" with a bunch of party girls in a Las Vegas hotel suite.
There's no doubt that Prince Harry is popular with young women, and even if the third-in-line to the British throne isn't your cup of ginger-infused tea there are plenty of internet users who may feel tempted to see what all the fuss is about.
If you're one of those people, please be careful.
There has been a long history of cybercriminals taking advantage of breaking celebrity news stories – be it the death of Michael Jackson or Amy Winehouse, Rihanna sex videos or a purported video of the killing of Osama Bin Laden.
There are too many examples to count. And it wouldn't be a surprise at all if some similar scams popped up around Prince Harry's latest hijinx.
Get your news from legitimate news websites – don't be too quick to click on a link shared with you via Facebook or Twitter, because it may take your browser somewhere dangerous, or you may be asked to install a fake video codec designed to infect your computer.
Ultimately, your best defence is to keep your wits about you.
In short, don't get caught with your pants down and you won't have to explain away how you got compromised to your friends and family later.