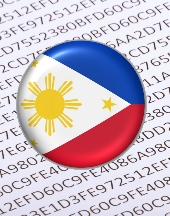 Police in the Philippines arrested more than 350 Chinese and Taiwanese nationals on Thursday in the largest cybercrime crackdown in the country's history.
The massive sting operation shuttered a large-scale account takeover scam that was plaguing bank account holders on mainland China, according to a statement released by the Philippine National Police.
It is just the latest operation in the Philippines, which has become the preferred operating base for criminal groups from the mainland and Taiwan in the wake of crackdowns by authorities there.
The arrests took place at around 6:30 AM local time on Thursday, with raids on around 20 residential units in several subdivisions located in Quezon City, Manila, Marikina, Cainta, and Antipolo Cities. The raids were conducted by the Philippines Criminal Investigation and Detection Group (CIDG) and the Presidential Anti-Organized Crime Commission (PAOCC).
Those arrested included two Filipino Chinese, Marisa Luisa Tan and Jonson Tan Co, who are believed by the authorities to have been financing the operation.
Those arrested are accused of violating the Philippines Access Device Act for a scheme in which the group would use internet-connected computers to call phone numbers on mainland China.
The caller would purport to be a Chinese police officer and would tell victims that their bank accounts were being used for money laundering and to fund terrorist activities. Victims were encouraged to transfer their entire bank balance to a "safe account" provided by the scammers in order to avoid action by the authorities.
According to media reports, the huge dragnet operation forced authorities to set up a temporary camp to house the suspects at the country's Police National Training Institute (PNTI) at Camp Vicente Lim, Laguna, Philippines.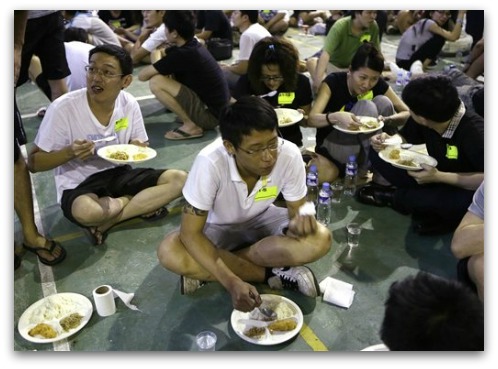 The bust is just the latest in the Philippines, which has seen similar crackdowns on similar scams in recent months. In May, authorities arrested 37 Chinese and Taiwanese nationals in two raids in Parañaque City who were conducting an identical operation.
Police in the Philippines have been operating at the behest and with cooperation of Chinese law enforcement, who used traced the Internet Protocol (IP) addresses used in the fraud to the Philippines.
The Philippines has become a hotbed of cybercrime activity for groups throughout Asia. Much of the criminal activity is directed at targets on mainland China. Authorities believe cyber criminal groups set up shop in the pacific nation after authorities in China began cracking down on domestic cybercrime groups in 2010.
In November, 2011, authorities in Philippines, working with the FBI, arrested four men who hacked into a PBX (private branch exchange) system operated by AT&T. The men used it to call premium telephone numbers. The scam racked up $2 million in profits which were funneled to a terrorist group based in Saudi Arabia with links to the attacks in Mumbai, India, in 2008.
Philippines flag image from Shutterstock.
Image credit: AP/Bullit Marquez.