Look out!
Hot on the oh-dear-that-wasn't-supposed-to-happen heels of the organisation which allowed a password-and-a-half to be broadcast on Polish TV…come the British police.
A uniformed police officer at a recent Assange-oriented press briefing fell under the lens of a Press Association snapper. The officer was carrying a clipboard, and zooming in on the paper under the clip revealed a meaningful snippet of what looks like the hapless copper's dutifully-taken meeting notes.
Under the pre-printed headings RESTRICTED – DECISIONS is a half-page of handwritten text partly obscured by the officer's arm; two separate pictures allow the first two sentences to be reconstructed in their entirety, as shown below:

The revelations in the leaked text are hardly surprising: Assange is to be arrested if he leaves the embassy. ARRESTED. Who would have thought?
But the nature of the leak – old-fashioned handwriting captured and disseminated digitally – ought to be a reminder to us all.
In the words of our very own IT Security DOs and DON'Ts guide, which features ten handy poster-sized tips you can print and pin up around the office: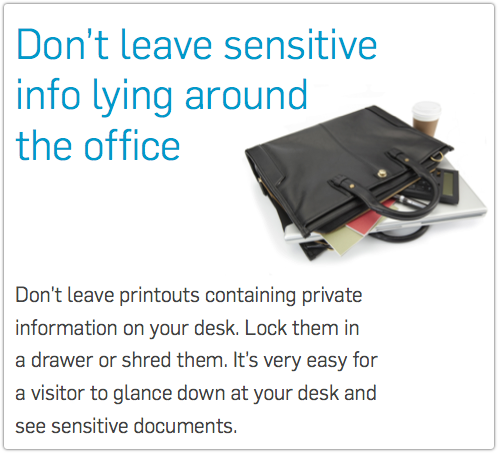 Don't leave printouts containing private information on your desk. Lock them in a drawer or shred them. It's very easy for a visitor to glance down at your desk and see sensitive documents.
Keep your desk tidy and documents locked away. It makes the office look more organized, and reduces the risk of information leaks.
Remember: you don't need to parade your confidential stuff in front of a press photographer for it to be at risk of getting snapped up. Nokia's latest mobile phone, for example – and this is a phone, remember! – sports a 41 megapixel camera. (You read that correctly. Forty-one.)
Any documents lying anywhere in your office are an easily-accessible target for visitors, cleaners and passers-by.
(The Sophos IT Security Toolkit is a free download. No sign-up, no registration, no email address required.)

–