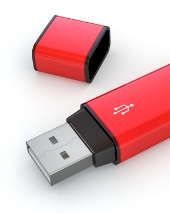 Sometimes some good can come from poor computer security.
The Burton Mail reports that a 46-year-old British man was found guilty of downloading indecent images of children after he accidentally shared his USB memory stick with a work colleague.
According to reports, Nicholas Hill, of Belvoir Crescent, Newhall, handed a memory stick to a female colleague in order to get a recording of a TV programme, but as soon as his workmate plugged the USB drive into her computer she was shocked to be presented with an array of indecent photos.
Clearly, Hill had not encrypted the data on his USB flash drive.
When police were called they found "279 images in the mildest category and six which were slightly more serious" contained on the memory stick.
Hill's defence team said that he had been collecting such images for a number of years, and told a hearing at Derby Magistrates' Court that their client deeply regretted committing the offence, and was previously a "man of good character".
Presiding magistrate Jill Steiner put Hill on probation for three years, and ordered him to attend a community sex offenders' group work programme. If Hill buys computer equipment in future, he must allow it to be inspected by police officers – although he has said that he will access the net only from a public library in future.
Aside from serving probation, Hill has also been ordered to pay £85 costs. As he is currently between jobs, it was has been agreed that he can pay the fine in monthly installments.
Being a consumer of child abuse imagery only encourages others to supply more, and ultimately abuse the young innocent victims. Hopefully Hill will rebuild his life, and not engage in child abuse material again.
If that's the case then some small good will have come out of poor security.
USB flash memory drive image from Shutterstock.