The Internet is mostly a good place filled with good people trying do good things. Except for those few bad people doing bad things - people you should really watch out for when you're online. Be careful out there! OK?
If that sounds like the fuzzy-headed advice you'd give your budding adolescent, rest assured: there's now a website that weaves together all the messy threads of contradictory guidance in one, easy to access location.
It's called A Platform for Good, and it has the backing of some of the internet's leading firms, including Facebook, Google and Microsoft.
Of course, Facebook, Google and Microsoft getting together behind something is always news. So, when the three tech giants announced on Wednesday that they signed up to support A Platform For Good, we decided to look into it.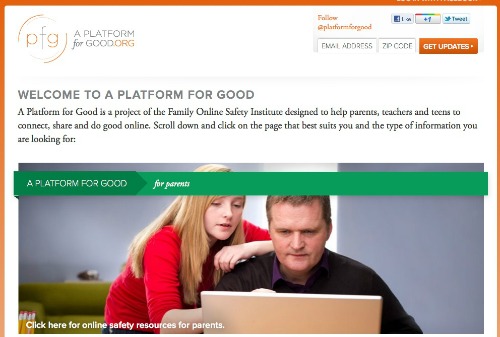 The partnership, which also includes Yahoo! and major carriers like AT&T, Verizon and Sprint, seeks to "highlight the positive power of the internet" and provide an online portal that helps "parents and teens connect, share and do good," according to a press release by the Family Online Safety Institute (FOSI), a UK-based non-profit that "works to make the online world safer for kids and their families."
FOSI and its partner organizations hope to counter the negative stereotypes of the internet as a dark and dangerous place. In a statement, FOSI said:
The stories reported in the news and infusing public conversation are focused heavily on the negative notions that don't support the research that says the majority of people's online experiences are positive. Given this climate, it is our hope that PfG (Platform For Good) will create a place to have a more balanced discussion about the role digital technology can play in our lives.
When it comes to protecting you and your kids online, A Platform for Good does a good job pulling together links to the privacy statements for the major social networks, along with information (where available) on how users can protect their privacy online.
But some of the information is still lacking. Click on Computer Security and you find a link off to Microsoft's page on preventing spyware infections. And nothing else.
The Mobile Safety section has links to AT&T content about the dangers of texting while driving, and a (solid) Yahoo page on mobile safety tips that talks (albeit obliquely) about problems like sexting, online bullying and mobile malware.
It's all right-minded and we'll add it to the long list of private initiatives to foster online safety. While we're at it, we'll put Google, Facebook and Microsoft to the list of companies whose hearts are in the right place.
But do these initiatives work once the ink is dry on the press release?
Providing scads of links to overlapping but uncorrelated discussions of the same problems is, it seems to me, a great way to engender confusion – not understanding.
You could forgive a parent, teacher or teenager from looking at a page full of links to identical sounding programs and hitting the browser "Back" button post-haste.
The truth is that mobile malware and drive-by downloads are difficult to predict or prevent, even under the best of circumstances.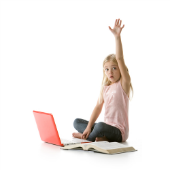 Schools that want to teach online safety should start with a frank discussion of how modern malware works, the kinds of behaviors that increase the risk of you being targeted or infected, and what to do in the unfortunate event that you become a victim.
It isn't easy, as this video shows:

There's also something important missing with A Platform for Good – namely: a substantive discussion of the very real problems that the internet and rapid technology adoption are introducing into childhood and adolescence.
In 2011, for example, The Pew Research Center has conducted studies that found ample evidence that social media use is associated with what Pew characterized as "cruel and unkind" behavior.
True, most teens think that their peers, generally, are nice to each other online rather than mean. But Pew found that one in three girls age 12-13 said that their peers were "mostly unkind" to each other on social media.
And, when the questions became more specific, teens in focus groups had no trouble conjuring personal stories about examples of online bullying, harassment and intimidation from their own peer group. They also depicted an environment in which online action and IRL (in real life) behaviors blur.
Here's one exchange from a peer group in Pew's report on "Teens, kindness and cruelty on social network sites":
MIDDLE SCHOOL GIRL: I read what they were talking about online, then I go offline and confront the person who was saying something to her.
MIDDLE SCHOOL GIRL: …Like that's how most people start fighting because that's how most of the fights in my school happen – because of some Facebook stuff, because of something you post, or like because somebody didn't like your pictures."
We'll chalk A Platform for Good up to "good intentions," but perhaps it's unrealistic to expect companies like Facebook, whose financial survival hinges on getting its users to share more online, to come down hard in favor of public health in the debate about online safety and online privacy.
This is a problem that's bigger than Facebook, Microsoft and Google, and a problem that governments and the voters that elect them have to decide to solve.
In the meantime, you can always download the free Threatsaurus: The A-Z of computer and data security threats for practical tips to stay safe from email scams, identity theft, malware and other threats.
girl raising hand image courtesy of ShutterStock.