Facebook has wrapped up an experiment to get people to rat out friends who are using aliases on the site.
A real-names privacy brouhaha started last Wednesday when a user tweeted a photo of a Facebook survey that asked whether a given Friend's name was real, presenting a user's account name, profile photo and location and asking the survey recipient whether the Friend's account user name is their real name.
Activist/writer/artist/photojournalist @chapeaudefee, who tweeted the survey snapshot, asked who'll be participating in what one privacy advocate is calling "Snitchgate":
Facebook wants to know if your friends' names are real. Are you going to be the snitch?
Facebook confirmed to TPM that it has been experimenting with surveying users about their Friends' usernames for a few months now.
From Facebook's statement:
This system has been in a few different incarnations over the past couple months. … It changes depending on what's being asked.
Facebook wouldn't tell TPM the new survey's size, its duration, or countries in which it had been rolled out.
A Facebook spokesman on Tuesday told me that the survey was a limited one, and that it has already been concluded.
The spokesman said that survey data was anonymized and that it won't use the survey data to take specific action, such as yanking a user's pseudonymous account:
This was a limited survey we have already concluded. We are always looking to gauge how people use Facebook and represent themselves to better design our product and systems. We analysed these surveys only using aggregate data and responses had zero impact on any user's account.
Here's what the Facebook spokesperson told TPM about wanting to improve its understanding of users:
This isn't so we can go and get that person in trouble. None of our surveys are used for any enforcement action. Basically, what this model does is help better inform us in how to classify different types of accounts. Just because we're showing a question about a particular user doesn't mean we suspect them of anything. The user is chosen by a system.
The answers that users provide help Facebook achieve a "better understanding of our ecosystem," the spokesperson said.
Real-name policies are all the rage with companies building online communities. Google+ has one (unless you're a celebrity, that is), and Google also rolled one out on YouTube in June.
The rationale relies on the assumption that people will behave in a more civilized fashion if they aren't hiding behind an alias, and/or that a given community will be cozier and, somehow, safer. (Of course, they're not so good if you have a legitimate reason for wishing to remain anonymous)
As Facebook states in its own real-name policy, it sees itself as "a community where people use their real identities. We require everyone to provide their real names, so you always know who you're connecting with."
Beyond that, Facebook's Terms of Service state that:
"Facebook users provide their real names and information, and we need your help to keep it that way. … You will not provide any false personal information on Facebook, or create an account for anyone other than yourself without permission."
"If you select a username or similar identifier for your account or Page, we reserve the right to remove or reclaim it if we believe it is appropriate (such as when a trademark owner complains about a username that does not closely relate to a user's actual name)."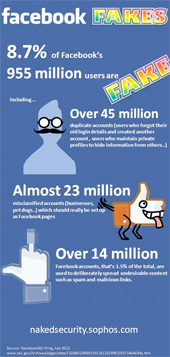 Does a real-name policy actually work?
Nope. Facebook has admitted that regardless of what it does to enforce the real-name policy, 8.7 percent of its accounts are using fake names, or about 83.1 million out of 955 million users worldwide.
And as TechCrunch reported in July, South Korea is a case study in how real-name policies fail to sanitize the muck of vile comments.
In 2007, the country temporarily mandated that all websites with over 100,000 viewers require real names.
It struck down the policy in July on the grounds that it undermined free speech, but also because it simply failed to clean up nastiness.
That was the conclusion of a Korean Communications Commission study that found the policy only decreased malicious comments by 0.9%.
Meanwhile, hackers flooded Korean sites, managing to steal an astonishing 35 million users' real-name personal data from the social sites Nate and its subsidiary Cyworld.
Analysis by Carnegie Mellon's Daegon Cho and Alessandro Acquisti further found that Korea's real-name policy actually wound up increasing the frequency of expletives in comments posted by heavy users.
Of course, real-name policies also have the potential to hurt a vast number of people, as was repeatedly emphasized in the pseudonym battle waged over Google+, which came to be known as the Nym Wars.
The Geek Feminism Wiki keeps a running tab of the groups of people who are hurt by these policies.
This is just a very small sample of such groups:
Women, who experience up to 25 times as much online harassment as men, if they use feminine-sounding usernames.
LGBT people, especially teens, 50% of whom experience bullying online, and those living in regions that do not have anti-discrimination policies or where homosexuality or transgender behaviour is outlawed.
Children, who are often advised to use pseudonyms online for their own safety.
Survivors of domestic abuse (most often women and children) who need to avoid being found by their abusers.
People whose religious beliefs, lack thereof, or experiences place them at risk.
Activists, whistleblowers, people who use professional pseudonyms.
Those are a lot of potential victims.
Here's hoping that their Friends act like friends and respect their right to express themselves without fear of dangerous repercussions.
I hope we can trust Facebook to do the right thing with the survey results.
But if you're like me, you'd have hit the survey's fourth radio button: the one that said "I don't want to answer."