Inventive spammers are up to their old tricks again, desperate to do whatever it takes to get you to click on a link to their websites.
The latest campaign we have seen involves messages which, to all intents and purposes, look like they have come from Twitter.
Certainly, without close inspection, there's nothing much to be suspicious about in regards to the email (although maybe they would have been more convincing if they had managed to reference your Twitter name if you have one).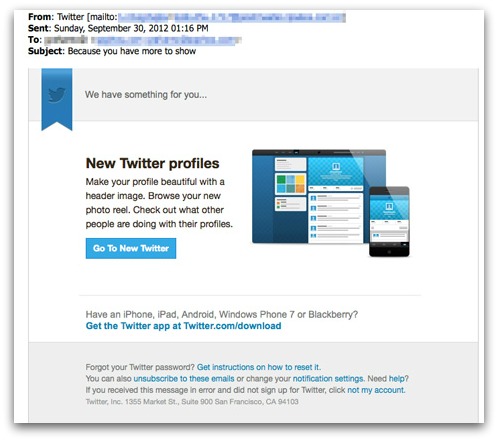 Subject: Because you have more to show

We have something for you...

New Twitter profiles

Make your profile beautiful with a header image. Browse your new photo reel. Check out what other people are doing with their profiles.
The emails invite you to update your Twitter profile, to include the new format profile images that the micro-blogging site is attempting to push onto a slightly underwhelmed userbase.
But in this case the emails don't come from Twitter at all. Because if you click on the links you are actually taken to a "Canadian pharmacy" website claiming to sell sexual enhancement drugs.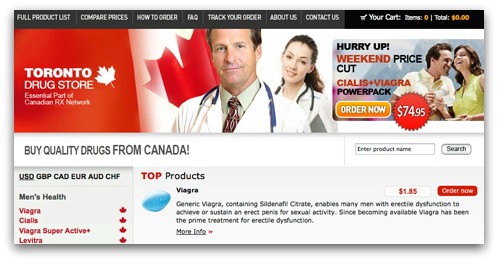 My guess is that the emails have been stolen lock-stock-and-barrel from a genuine Twitter communication, and just the links have been changed.
You should always be careful to check where a link is taking you, especially when contained in an unsolicited email, before you click on it.
In this case, it could just have easily linked to a bogus Twitter login page – asking you to enter your username and password – or a website hosting malicious code designed to infect your computer.