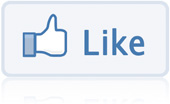 Passionately Liked Facebook pages have begun to see their numbers sag.
One example is the third most-Liked Facebook page, Texas HoldEm Poker, which had a weekly count that was down 275,352 as of Saturday, according to an independent page metric site, PageData.
If you drill down into pages' growth charts, you'll see that the drops began on Monday, 24 September.
Other pages that suddenly lost some warm and fuzzy include celebrity pages of Lady Gaga (down 104,125 for the past week), Eminem (-5,572) and Rihanna (-50,610).
Facebook confirmed to CNN that the slipping Likes numbers are part of a site upgrade (perhaps in response to the site's admission that it has over 83 million fake profiles?), but it wouldn't give details beyond pointing to a 31 August statement regarding improvements to site integrity systems.
The posting states that Facebook has recently increased automated efforts to remove Likes that may have been gained by means that violate Facebook Terms, including malware, compromised accounts, duped users or purchased bulk Likes.
The move shouldn't make most pages deflate too much, Facebook says:
On average, less than 1% of Likes on any given Page will be removed, providing they and their affiliates have been abiding by our terms. … While we have always had dedicated protections against each of these threats on Facebook, these improved systems have been specifically configured to identify and take action against suspicious Likes.
One source of Like inflation are networks of zombie accounts run by bot masters.
Researchers at the University of British Columbia last year created a network of some 100 Facebook bots and found it was easy to evade Facebook detection, convincing thousands of real Facebook users to friend their lifeless fabrications – particularly when they employed photos of attractive women.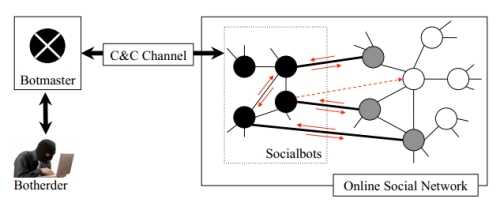 Another source of fake Likes is a phenomenon known as a tagging session.
A Valentine's Day page, bleating about Love and Like, adorned with red and pink hearts, is an example.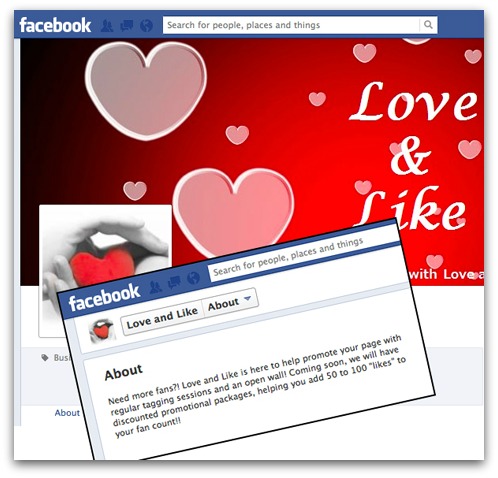 That Facebook page conducts frenzied, 10-minute Liking and Sharing sessions, the rules of which state that it will ban participants who don't tag 99% of the sites being promoted.
But just who, exactly, gets hurt by fake Likes? Those who are trying to accurately measure how well their marketing efforts are doing.
Jon Loomer, a social media consultant, is one of those people.
In January, he posted about being targeted by Like scams.
Loomer happily watched his Likes grow, only to find that much of it came from tagging-session participants who didn't have a clue who he was or what his page was for.
As such, he was left in the dark regarding what real relationships he'd managed to form:
An inflated number is not reality. It doesn't give me an accurate reflection of how I'm doing. So if I'm doing poorly, I want the numbers to reflect that. I don't want a lie that will deflect the truth.

Regardless of what Facebook does to weed out fake Likes, the black market will evolve. We'll continue to see bots that add friends, spam messages and Like pages.
But people who buy into these offers for bogus page promotion, such as "500 Likes for $5!", will get what they paid for: junk.
They'll get 80% bots and 20% people who've been spammed to death, notes Quora submitter Massimo Chieruzzi.
And as Loomer points out, some perfectly well-meaning people may well participate in tagging sessions:
They are struggling. They don't want to spend the money on ads. Maybe they simply don't know how to build a page honestly. Or they think this will lead to wealth.
But fake Likes are just smoke. They won't help struggling businesses grow in any real sense.
So kudos to Facebook for popping the bubble, even if it's only a temporary stop-gap before the black market evolves and finds more ways to rig the system.
If you're on Facebook, and want to learn more about security and privacy issues on the social network, consider joining the Naked Security Facebook page.