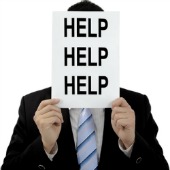 The other day, someone asked me: So who exactly reads Naked Security? How do you know you are giving them what they want?
It is a good question. And we have some idea, based on traffic, the many comments you leave us, sign-ups to our newsletter, etc. And we do use some web tracking tools. All this helps, but it occured to me, why don't I just ask you?
Some of you, I know, prefer our more technical stories. Others might seek out our lighter, more amusing security articles. But how can I make sure we are providing you the right balance?
Please, would you take our 2-question poll?
I know the questions and categories aren't perfect. But the info you provide will help me and the team figure out where to focus our energies. And, it will help me explain to those that help fund Naked Security that we understand our key audience and adapt to their needs as appropriate.
Select up to THREE favourites:

That's it. You are done. Thank you.
If you have the time and inclination to share, we would love to hear more: why you read us, what you love, what annoys you, etc. You can leave us a comment below or drop us a message at tips@sophos.com
As one of Naked Security's creators and grand pooh-bah-ette, I care very much for our future, so it's a big fat thank you from me.
help image courtesy of Shutterstock.