The kindness of friends is helping perpetuate an ongoing hoax that has spread widely across Facebook.
If you've seen a message like the following, posted by one of your Facebook friends, do them and the other billion users of Facebook a favour, and tell them that it's a hoax.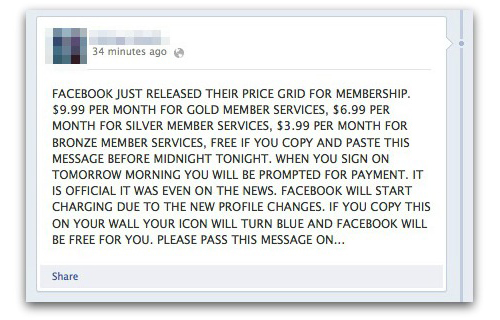 FACEBOOK JUST RELEASED THEIR PRICE GRID FOR MEMBERSHIP. $9.99 PER MONTH FOR GOLD MEMBER SERVICES, $6.99 PER MONTH FOR SILVER MEMBER SERVICES, $3.99 PER MONTH FOR BRONZE MEMBER SERVICES, FREE IF YOU COPY AND PASTE THIS MESSAGE BEFORE MIDNIGHT TONIGHT. WHEN YOU SIGN ON TOMORROW MORNING YOU WILL BE PROMPTED FOR PAYMENT. IT IS OFFICIAL IT WAS EVEN ON THE NEWS. FACEBOOK WILL START CHARGING DUE TO THE NEW PROFILE CHANGES. IF YOU COPY THIS ON YOUR WALL YOUR ICON WILL TURN BLUE AND FACEBOOK WILL BE FREE FOR YOU. PLEASE PASS THIS MESSAGE ON...
Facebook's share price may have taken something of a stumble since the company floated on the stock market, but is not about to start charging you money to use its social network.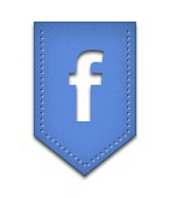 If something like this had even the flimsiest shred of truth about it, you would read it on the front pages of the big news websites like the BBC and CNN – but there's nothing to be seen.
The truth is that this hoax has been spreading for quite some time – and shows no sign of dying. The problem is that it's so easy to share a message like this with your online friends that people will do it automatically just in case it's true, rather than spend twenty seconds searching the net to see if it's a hoax or not.
Once again, a hoax is being given oxygen by users who believe they are doing their online friends a favour. The truth is that they're unwittingly polluting the service with poppycock and disinformation.
Don't forget you should join the Sophos Facebook page, where we not only debunk hoaxes and chain letters, but we also keep you up-to-date on the latest rogue applications, scams and malware attacks threatening Facebook users.