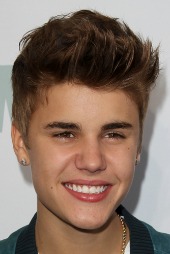 Don't click on that photo of Justin Bieber!
It's not him, fans say.
Sure, there's the trademark bird tattoo on the left hip, but the nipples are all wrong.
A photo distributed on the internet shows a headless naked male body engaged in what might perhaps be a sexual act with himself.
It was allegedly leaked when a thief made off with the singer's laptop and camera after a show in Washington.
The gadgets contain "a lot of personal footage," the star tweeted within hours of the theft:
There's just so much wrong with this picture, and I'm not talking about Justin Bieber's pink parts.
The first bit of wrongness has to do with anybody who'd actually risk their cyber security by clicking on an alleged celebrity photo.
The land of Twitter has plenty of skeptical Twitizens, but so too does it have far too many drooling fans eager to click on JB's charms.
Take Breanna, for example:
Hopefully, young fans like Breanna have wise friends who can educate them regarding malware, which loves to hitch a ride onto PCs using come-ons like nude celebrity pictures.
Earlier this week, Microsoft released its most recent Security Intelligence Report, which showed that photos, movies, software and other media are increasingly infested with Trojans and other attack vectors.
Anybody who goes out searching for nude photos of celebrities is just asking to be taken advantage of.
There's a long history of malware authors making the most of splashy celebrity-related headlines, whether it's the death of Michael Jackson or Amy Winehouse, Rihanna sex videos or a purported video of the killing of Osama Bin Laden.
Beyond the danger of clicking on what could be malware-laced photos, what in the world is Bieber doing storing personal footage on a laptop that hasn't been properly encrypted and secured with a strong password?
Sophos's Graham Cluley made this YouTube video a while back to explain how to choose a hard-to-crack but easy-to-remember password, but if you're tackling the task of security education for Beliebers, you might want to cut right to the part where he addresses password management software programs like 1Password, KeePass and LastPass, any of which will lift the task of remembering all their different passwords.
And with that accomplished, we will leave Bieber's fans to the task of bellybutton analysis.
But do point out to them that, as the Huffington Post shows, the star's belly button is clearly an outie.
Image of Justin Bieber courtesy of Helga Esteb / Shutterstock.com.