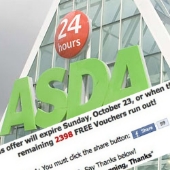 Two firms have been fined a total of £450,000 (approximately US $720,000) for running a series of scams on Facebook.
The scams, which claimed to offer free vouchers and supermarket gift cards for the likes of Tesco and Asda, resulted in members of the public signing-up for expensive premium-rate phone services.
Australian firm mBill Pty and Amazecell Limited, based in Israel, were judged by PhonepayPlus – the regulatory body for all premium rate phone-paid services in the United Kingdom – to have run deliberately misleading promotions on Facebook.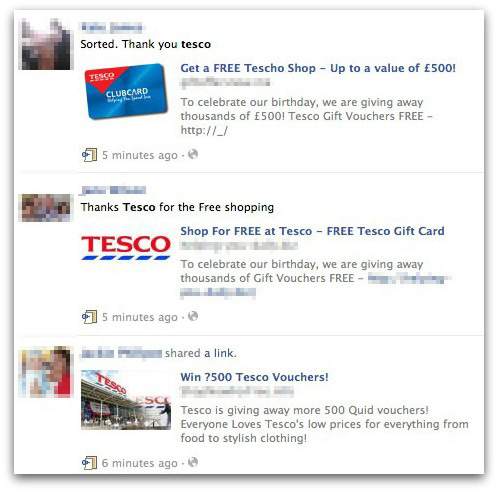 The problem got so bad that Tesco warned its customers not to click on the offending links.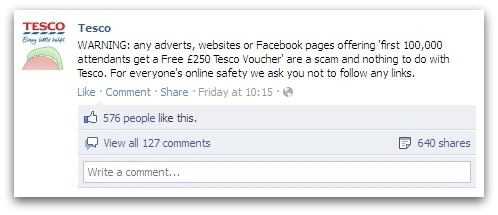 In two separate cases, mBill and Amazecell used affiliates to promote their premium rate competitions, exploiting social networking users trust in what their online friends had "liked" and "shared", and spreading rapidly.
The promotions – which took place in 2011 – included the lure of vouchers worth up to £250 for major retailers, including Tesco and Asda, with messages posted on Facebook users' walls. The messages were either shared on walls without the users' explicit permission, or users were told they were required to 'share' the promotion in order to have a chance of receiving a voucher.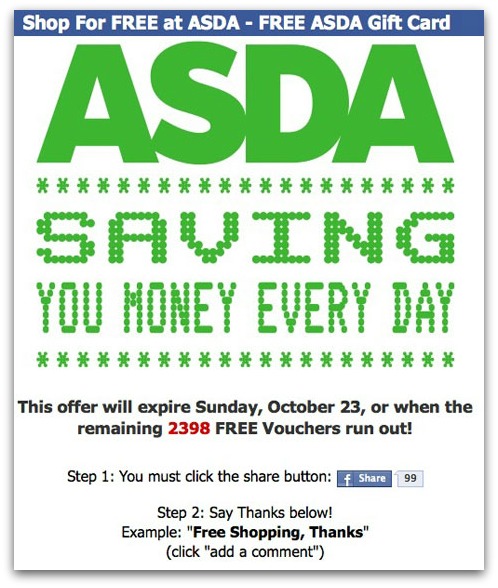 According to PhonepayPlus:
"After clicking on the promotion consumers were misled into participating in premium rate competitions. Consumers believed that these were stages towards receiving the promoted offer and did not realise that by entering their phone number they would be charged."

"In the Amazecell case, consumers were charged £5 per question sent to their phone. Consumers were subsequently charged for further questions regardless of whether or not they answered them. Over 89,000 consumers entered the service only once but were sent a second question for which they were charged."
It's pretty despicable, in my opinion, to dupe people into believing they have a chance of winning a pre-release iPhone 4S for testing, grocery vouchers, theme park tickets or a new iPad or Dell laptop, only to sign them up for expensive £5-a-go SMS messages.
PhonepayPlus' Tribunal found that the companies had breached the Code of Practice by misleading consumers and not providing clear pricing information. Amazecell Ltd was fined £300,000 and mBill Pty Ltd was fined £150,000. Both have been ordered to refund any consumers who request a refund.
Aside from the Tesco and ASDA Facebook scams, Sophos has also warned of Facebook scams involving other retailers – including Argos, Pizza Hut, Costco, JB Hifi, Apple iTunes, Amazon, Tim Hortons and Starbucks.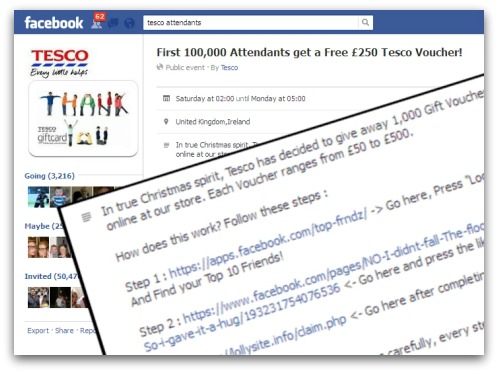 Sadly Facebook is rife with scams such as this, duping users into making expensive mistakes and unwittingly tricking their friends to also sign up.
Make sure that you keep informed about the latest scams spreading fast across Facebook and attacks elsewhere on the internet. Join the Sophos page on Facebook, where over 190,000 people regularly share information on threats and discuss the latest security news.