Sometimes-outspoken and always-cynical IT news site The Register wrote yesterday about dodgy PC repair shops in its home country, England. [*]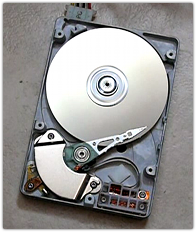 The report was based on an exposé by the investigative TV programme BBC Watchdog. (Users with UK IP numbers: watch here.)
The usual sorts of problem you might expect from any shonky operator in any maintenance or repair business in any industry sector were there: overcharging, bogus diagnosis of "faults", and old parts sold as new.
Passing off old parts as new is plain dishonesty in any industry – but it's more dangerous in some than in others.
The hazards in the engineering, electrical and automotive industries are obvious: old parts, especially if they were taken out of service because they were faulty, might be physically dangerous. They're certainly likely to mess with any future scheduled replacement cycles.
In IT, however, an old electronic part might have loads of life left in it. Hard disks fail eventually, but they don't wear out like chainsaw blades or cam belts. The problem is not what they may have lost in their life so far, but in what they have gained: other people's data.
In the Watchdog programme, apparently, that's just what happened, with a used hard drive supplied as new at the impressive price of £200 ($320). The "new" drive, it seems, turned out to contain medical records from a residential care home. (To add insult to injury, the "faulty" drive it replaced wasn't actually broken.)
Ow.
There are four obvious lessons in this:
And if you do find someone else's data where it's not supposed to be, please do the right thing. Wipe it without examining it, or (assuming that it's obvious where it came from without prying too far) do what BBC Watchdog did: return it to the original owner.
[*] I am aware that England is not a sovereign independent state, and that it doesn't have a government all of its own. But it fits better in this sentence position than "United Kingdom" or "UK", and if FIFA can treat it as a country, so can I.