Google's cagey. Understandably so.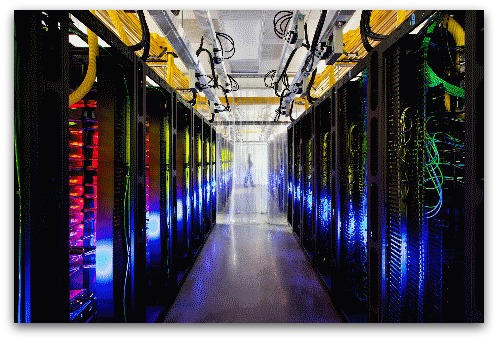 It gave a peek into a sprawling maze of computers in its $600 million data center this week, but wouldn't say how many it has.
Lots, OK? Can't give a number.
Involves competitive advantage, intellectual property. Would have to kill you.
Oh, but wait, you say you want a peek at Google's less-than-stellar quarterly earnings report?
You want that around lunchtime, you say, about 3.5 hours before its scheduled release?
No problem!
Yes, that's what happened to the company that's so scrupulous about data protection that it uses what Wired's Steven Levy calls "a small cadre of engineers" to attack its own infrastructure, popping leaks in water pipes, staging protests outside the gates to distract attention away from intruders who aim to steal data-packed server disks, screwing around with the ad network, and cutting fiber connections to Asia.
That in-house staging of attack scenarios didn't really work.
What did bring down this data giant?
What nefarious, complicated scheme of Mission Impossible-esque ninjas and code crunchers caused the company's earnings to leak out hours early, carving $22 billion dollars from the flanks of Google's stock value, given the company's disappointing third-quarter earnings?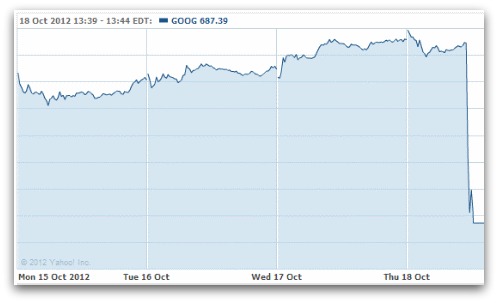 Fingers. Fat ones.
It was human error, on the part of financial printer R.R. Donnelly, in whose ranks there exists somebody who now must be getting a stern talking-to, unless the poor sod has already been fed to alligators.
Here's what Google said in a statement after the early release, which caused its stock to plunge 9% before Nasdaq halted trading in the early American afternoon on Thursday:
"Earlier this morning R.R. Donnelley, the financial printer, informed us that they had filed our draft 8K earnings statement without authorization. We have ceased trading on NASDAQ while we work to finalize the document. Once it's finalized we will release our earnings, resume trading on NASDAQ and hold our earnings call as normal at 1:30 PM PT."
Wow. That's certainly a painful example of how accidental data loss can hurt your company.
The third-quarter earnings report was due out after the market closed but was instead published on the Securities and Exchange Commission's website at 12:30 pm ET on Thursday.
As the Wall Street Journal notes, the report wasn't quite ready for prime time – a fact denoted by a spot reserved for a canned bit of verbiage from CEO Larry Page that read "Pending Larry Quote."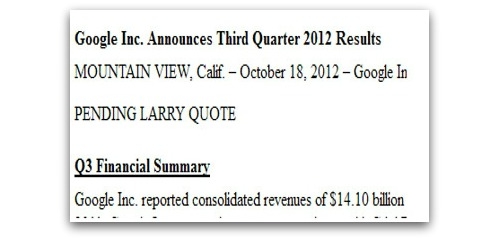 Doug Fitzgerald, a spokesman for R.R. Donnelley, told the WSJ that the company is investigating.
R.R. Donnelley's statement:
"We are fully engaged in an investigation to determine how this event took place and are pursuing our first obligation – which is to serve our valued customer."
Cyber attackers might make for more titillating headlines, but this mess-up shows that even a tech superpower like Google can get its shins badly kicked by data leakage caused by simple human error.