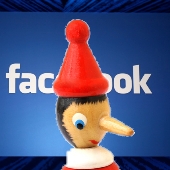 There's something of a hoo-hah in the world of British politics today, after a senior government official advised users of social networks such as Facebook on how to protect their privacy.
Nothing controversial there, you might think. Until you realise that the advice from Andy Smith, an internet security chief at the Cabinet Office, was that you should lie about your real name and date of birth.
The BBC reports, that Smith told a parliamentary internet conference that providing fake details to social networking sites was:
"..a very sensible thing to do.. When you put information on the internet do not use your real name, your real date of birth. When you are putting information on social networking sites don't put real combinations of information, because it can be used against you."
Opposition Labour MP Helen Goodman told the BBC that she was outraged by the advice, and claimed that such behaviour could lead to more crime, not less:
"This is the kind of behaviour that, in the end, promotes crime. It is exactly what we don't want. We want more security online. It's anonymity which facilitates cyber-bullying, the abuse of children. I was genuinely shocked that a public official could say such a thing."
So, what do we think here on Naked Security?
Well, there is no doubt that cybercriminals can harvest personal information social networking profiles, and use it as an aid to identity theft.
As we have reported many times in the past, a worrying number of people are far too lax about sharing their names, addresses, phone numbers, full dates of birth, job and educational history etc on social networks like Facebook.
Last year, for instance, we reported on a British man who was jailed after stealing £35,000 (approximately US$ 55,000) from his neighbours' bank accounts with help from personal information they had posted on Facebook.
Back then, my advice to social networking users was that they should stop feeling compelled to tell the truth, the whole truth, and nothing but the truth, to such sites.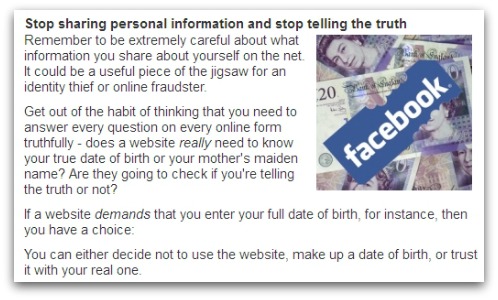 It's important to know, before you take that advice, that some websites (such as Facebook) do insist in their terms and conditions that you must provide it with accurate information. The penalty, if you break their rules, is that they could kick you off the site.
Remember though – Facebook and other sites like it have no way of verifying that you did tell the truth. They won't like me much for saying it, but why risk sharing too much personal information?
Many sites want you to be honest about your real date of birth, but this is probably to stop you from pretending to be a 13-year-old schoolgirl, rather than because they think it's important you say that your birthday is on September 5th or March 3rd.

Sadly, simply making your date of birth private on Facebook may not be enough – back in 2008 they accidentally leaked everyone's date of birth, regardless of whether users had chosen to make it private or not.
So my advice is to lie about your date of birth when you can, but don't be deceptive regarding your rough age group.
Similarly, if a website asked you for your mother's maiden name (which is a matter of public record) for the purposes of a password reminder, why not make up the answer? For instance, say "Xena Warrior Princess", "Robert Mugabe" or "Archduke Franz Ferdinand of Austria". As long as you remember it, and no-one else can guess it – that's all that matters.
The same goes for your first pet's name, or the first road that you lived on.
Yes, MP Helen Goodman is right that cyber-bullying is a real problem as the recent tragic case of Amanda Todd proves. And no-one is suggesting that you lie on websites about the personal information where the truth really matters, such as when you're filling in your tax return online.
But, on balance, I think we all need to be more careful about the information we share on the web – and realise that sometimes a little fibbing and reticence might go a long way to a safer online experience.
Maybe you feel differently? Why not have your say by leaving a comment (anyonymously if you wish) below, or take our quick online poll.
If you are on Facebook, and want to learn more about security and privacy issues on the social network, join the Naked Security Facebook page where our 190,000 strong community regularly discuss the latest threats.