On Friday, Microsoft launched Windows 8 to consumers.
Today, the experts at SophosLabs have intercepted a phishing attack which plays upon interest in the new operating system.
Here is an example email, pretending to come from "Microsoft Windows 8 Team", that was caught in our traps: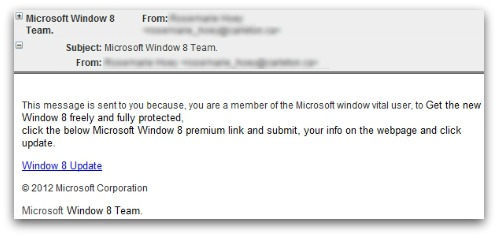 This message is sent to you because, you are a member of the Microsoft window vital user, to Get the new Window 8 freely and fully protected,
click the below Microsoft Window 8 premium link and submit, your info on the webpage and click update.

Window 8 Update

(c) 2012 Microsoft Corporation

Microsoft Window 8 Team.
Clearly the cybercriminals aren't wasting any time.
Fortunately, it's hardly the most sophisticated attack in the world, but the offer of some brand new software for free may be enough to trick some people into clicking on the link.
And if you were to click on the link then you would be taken to a webpage hosted on a Slovakian web server which asks you to enter your username, password, email address and server domain name.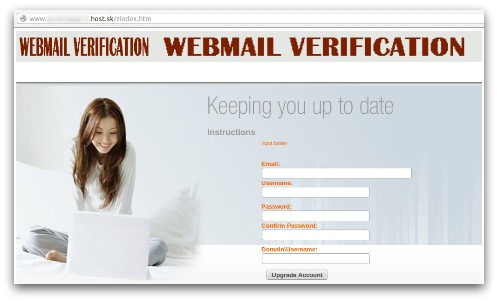 If you're careless, you could have just handed over the keys to your castle to a bunch of cybercriminals.
If you can't trust yourself – or (perhaps more importantly) the users in your company – not to click on links like this then it might be wise to invest in a security solution that can protect you against email and other internet attacks.
If you are considering adopting Windows 8, check out Sophos's top eight security tips for Windows 8.