Gearbox Studios, the maker of the popular game Borderlands 2, is warning Xbox 360 users to be careful of who they play with, following a rash of reports of unexplained character deaths.
The culprit? A software flaw that appears to be spreading, STD-like, from Borderlands 2 "modders" to other law-abiding gamers they play with.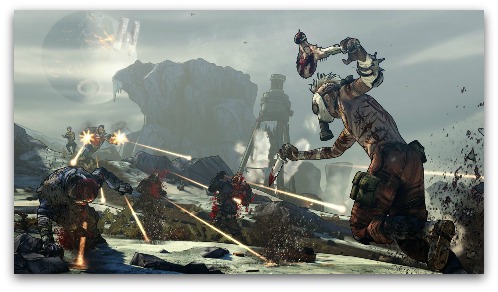 The company acknowledged the attacks on Friday, saying that "a few users" were "using an external application" to "maliciously disrupt" the game and "sabotage characters of legitimate Borderlands 2 players on Xbox 360," according to a message posted by Gearbox community manager Chris Faylor in the game's user forum.
Faylor said Gearbox has submitted an update to Microsoft to correct the problem.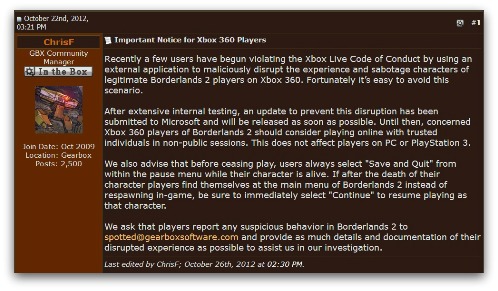 The vulnerability in question appears to stem from a secret option within Borderlands that allows users to "mod" (or modify) their characters: attaining skill levels beyond what they've earned (or even what's technically allowed by the game) as well as special weapons and armor.
User accounts describe an option, variously described as "badass mode," "hardcore mode" and "IsBadassModeSaveGame" that players who have modified their characters can enable using modding software like Gibbed's Save Editor.
According to user accounts, the option causes Borderlands 2 characters for whom the option is enabled to be deleted when they die.
More concerning: Borderlands 2 players who play alongside a player who has enabled this feature inherit it, as well, in their user profile – regardless of whether their character has been "mod-ed" or interacted directly with a modded user or modded gear.
Messages in Gearbox forums describe a variety of problems after playing in group games with players who appeared to have "mod-ed" their characters. The problems include having character data deleted and characters killed off permanently once they die, rather than reappearing ("respawning") within the game.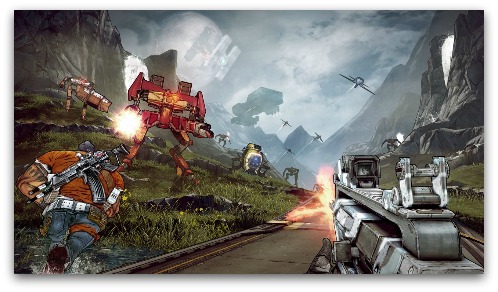 "It's like an STD, it is not just who you play with but everyone those players have played with," wrote a user with the handle Ryz866. "Even if you never joined a modder, if someone you played with has or someone they played with…you still get the setting saved in your data unfortunately."
It was unclear, Monday, whether the rumors of a link between the "Badass" mode option and the character deaths were related. However, this isn't the first time that Gearbox has encountered problems with Borderlands linked to "modding."
In 2009, users of the first Borderlands release were infected with a virus linked to shields within the game variously referred to as "glitches" shields or "marcus bobblehead" shields.
The infected items would make players invincible and drop loads of in-game cash into their accounts, but couldn't be disposed of. It spread like a virus within a game, infecting players who encountered an infected player.
Hacks on gaming platforms are becoming more common.
Last week, a group of hardware hackers calling themselves the "Three Musketeers" released a tool, the Level Zero (LV0) loader that allows modders to circumvent cryptographic protections that limit what kind of software can be run on PS3 devices.
In recent weeks, security companies have noted a mass kill-off in the massively multiplayer game World of Warcraft and alerted users of Google's Chrome browser of adware masquerading as a version of Rovio's new Bad Piggies.