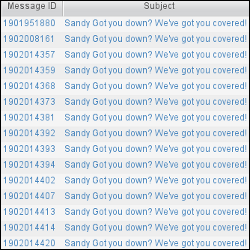 Starting October 30th, we began to see the first online criminals trying to cash in on the interest in Hurricane Sandy. The good news is they are not trying to spread malware (yet), but the bad news is they are trying to take advantage of a natural disaster affecting millions.
The subject lines of the scam messages — "Sandy Got you down? We've got you covered!", "Don't let the storm ruin your diner plans" and "Avoid the Storm, Eat at chilis!" — appear to be targeting people who may need to file insurance claims related to damages from the "super storm" and other people who are simply hungry.
The bodies of the emails aren't terribly interesting, but every place in the message is a link to a site called "remain watery." The domain was registered on October 15th, clearly in anticipation of creating more victims from this crisis.
"Sleep Better and Enjoy the Peace of Mind You Deserve!

Get up to $250,000 of Life Coverage as low as $10 Per month! Learn more.

Prices are Fixed by Law, So You Cannot Find a Better Price for the Same Product Anywhere!"
The first thing you get when you visit the link (from the United States — Australians get gambling garbage) is a page that looks like Wikipedia and promises a chance to win an iPhone 5, iPad or MacBook.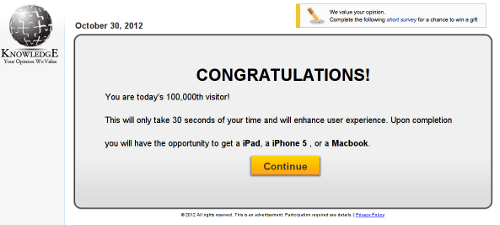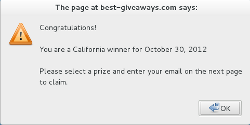 Next you are asked which prize you wish to receive (yeah, right) after the scammer gets your information. Strangely, after choosing the sexy new iPad I got another pop-up with an additional scam offering even more prizes.
As we have seen before, the promise of color iPads requires the victim to surrender lots of personal information. The criminals are making a commission for each person who surrenders this data.
Often when they ask for your mobile number, like in this case, they will sign you up for a premium rate recurring SMS charge.
Can you imagine how fast Steve Jobs would be rolling in his grave over an orange iPad?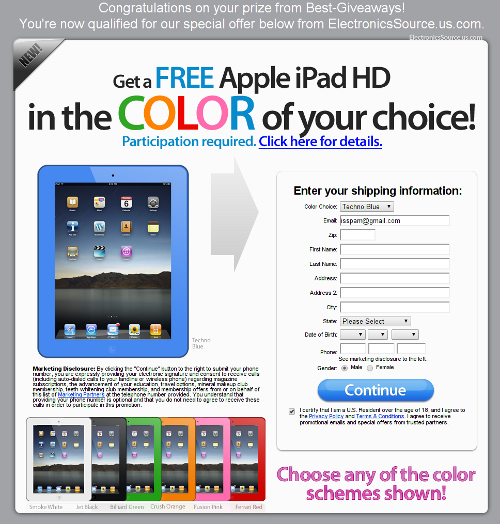 Astonishingly the people behind this don't stop there.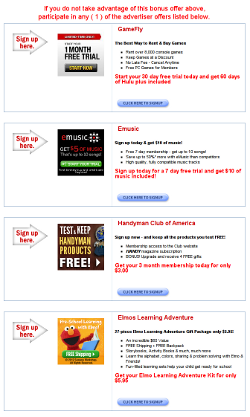 They proceed with an assortment of affiliate marketing initiatives that you must complete to qualify for the allegedly free iPad.
This is often an unforseen problem for companies that decide it's a good idea to offer a commission or sign-up bonus to people who refer new customers. More often than not, this leads to scammers who smell an opportunity to get paid for less than ethical activities.
People sometimes ask, "What's the harm? Maybe I will get a free iPad. Don't be such a Scrooge." Lots of harm, actually.
Not only does providing this information lead to additional rogue marketing and phishing attacks, it can also be used for identity theft and to answer those silly password recovery questions many sites offer when you forget your password.
For those who are affected by the hurricane, stay safe, stay secure, and don't fall for it. The last thing you need right now is another thing to worry about cleaning up after.