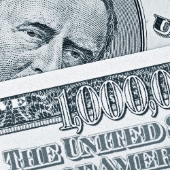 An email scam is using a Naked Security news story about the arrest of a gang of suspected credit card fraudsters, in an attempt to scam innocent internet users.
The scam emails have the subject line "We have mandated your payment, kindly view below attachment", and claim to come from the Internet Crime Complaint Center (IC3).
Attached to the emails is a file (DETAILS.doc) which presents itself as an official communication from the IC3, explaining that criminal proceeds have been confiscated from scammers, and as the recipient's name and email address was found in the criminals' possession one million dollars in compensation is available.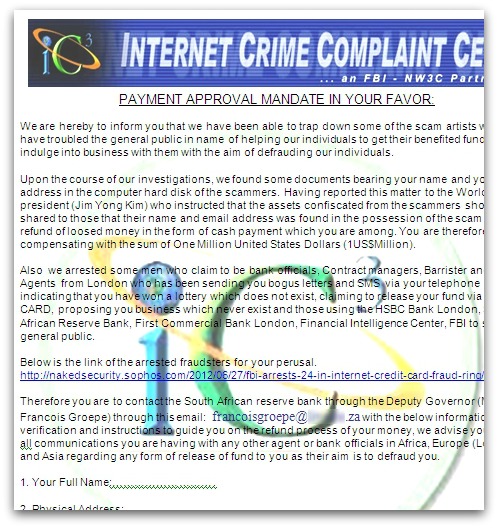 Part of the Word document, which uses the genuine IC3 logo, reads as follows:
We are hereby to inform you that we have been able to trap down some of the scam artists which have troubled the general public in name of helping our individuals to get their benefited fund or to indulge into business with them with the aim of defrauding our individuals.

Upon the course of our investigations, we found some documents bearing your name and your email address in the computer hard disk of the scammers. Having reported this matter to the World Bank president (Jim Yong Kim) who instructed that the assets confiscated from the scammers should be shared to those that their name and email address was found in the possession of the scam artists as refund of loosed money in the form of cash payment which you are among. You are therefore to be compensating with the sum of One Million United States Dollars (1US$Million).

Also we arrested some men who claim to be bank officials, Contract managers, Barrister and Lottery Agents from London who has been sending you bogus letters and SMS via your telephone numbers indicating that you have won a lottery which does not exist, claiming to release your fund via ATM CARD, proposing you business which never exist and those using the HSBC Bank London, South African Reserve Bank, First Commercial Bank London, Financial Intelligence Center, FBI to scam the general public.
The email then goes on to request that the recipient send over their name, address and phone number to an email address, allegedly belonging to the deputy governor of a South African bank.
It doesn't take a super-sleuth to realise that this is going to end up as a 419 scam, with the potential victim encouraged to pay a logistical fee in advance for the release of the funds. In short, anyone who falls for the ruse is going to end up out of pocket.
What caught our eye, however, was the news story link that the scammers are using to give credence to their story that funds are available after the capture of cybercriminals.

Yes, it points to a Naked Security story from earlier this year about an FBI arrest of 24 people in a suspected credit card fraud ring.
I guess we should be flattered..
Don't forget – just because you think it's unlikely that anyone would ever fall for an email scam like this, doesn't mean they don't succeed. There are people out there who are vulnerable or elderly who could be tricked into believing that the offer is real – and end up losing a lot of money as a result.
We have informed the real IC3, in case they wish to post a warning to other potential victims.
Million dollar image from Shutterstock.