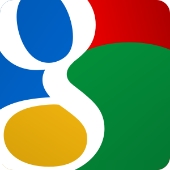 Google released its semi-annual Transparency Report on Tuesday, warning that government surveillance of its users is on the rise.
In an official blog post, the search giant acknowledged that it received more than 20,000 requests for user data between the months of January and June 2012.
That's a 30% increase from the same period in 2011, and a sign of greater government surveillance on how people are using the internet.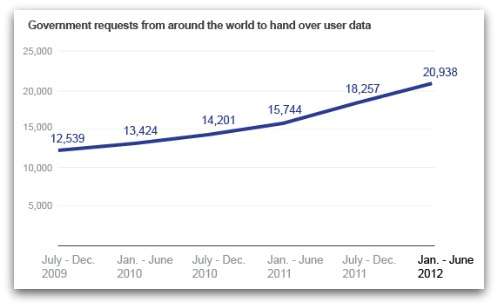 More than 34,000 accounts were targeted in the government inquiries. Most of those requests came from the US government, which made 7,969 inquiries linked to 16,281 Google users. However, Google notes that those numbers include requests made by the US government on behalf of other governments as part of mutual legal assistance treaties and diplomatic relations.
India and Brazil rounded out the top three spots in the first half of 2012, as they did in the second half of 2011. The government of India was linked to 2,319 user data requests linked to 3,467 users. Brazil was linked to 1,566 user data requests linked to 2,640 users. At the bottom of the list were Denmark, Ireland and Norway, with fewer than 40 requests each.
Requests to remove content from Google's many services, such as YouTube and the Blogger blog platform, also spiked in the first six months of 2012. There were 1791 requests to take down 17,746 pieces of content from Google services between January, 2012 and June. That compares with 1,048 in the preceding six months and 949 in the same period in 2011.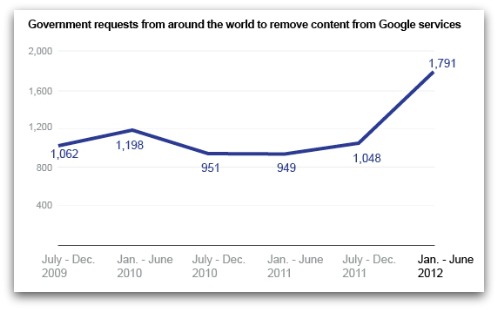 Google first began reporting the requests in 2010, saying it wanted to shine a light on the requests it received from governments, and how government intervention could hamper the flow of information online.
The reports came amid heightened scrutiny of the way in which search and email providers like Google and Yahoo often cooperated with government surveillance of their users.
Notably, Google's competitor Yahoo was criticized by Reporters Without Borders and other human rights organizations for turning over information on two dissidents to the Chinese authorities.
That information was then used to convict the dissidents of charges of "inciting subversion" – convictions that brought stiff prison sentences.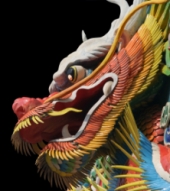 China was notably absent from the list of countries that asked Google to turn over information on its users. Google has had a contentious relationship with the ruling Communist Party there, which is known to rely on a vast network of digital surveillance to keep tabs on the speech and activities of its citizens.
The relationship soured after a sophisticated cyber attack on Google's corporate infrastructure and high profile users dubbed "Operation Aurora" was tied back to China.
Google retaliated ceasing to filter search results in China in accordance with government policies, and moving its Chinese operations off of the mainland.
China also frequently blocks access to Google's search engine and online services, as it did last week at a time when the Communist Party was meeting in Beijing to choose its new leaders.
Google noted that it does not always comply with government requests to remove information from its services or turn over information on its users.
Countries like Russia and Turkey are notable for having dozens of requests for information on users rejected by Google. The company said that it refused to comply with requests from a provincial land bureau in China to remove a search result linking to a website that the bureau claimed defamed a government official there.
It rejected similar complaints from governments ranging from Great Britain to Australia to the Philippines.
While disconcerting, it's worth noting that requests for content removal by copyright holders are an order of magnitude greater than those of governments.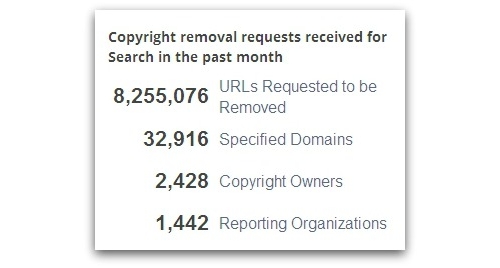 In just the last month, for example, Google responded to 8.2 million removal requests linked to 32,916 domains.
The BPI, RIAA and software publishers like Microsoft led the field of organizations requesting Google cut off access to copyrighted information online.