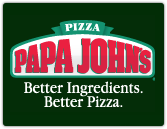 US pizza chain Papa John's is in the firing line of a Seattle, Washington, law firm.
Heyrich Kalish McGuigan, PLLC specialises in litigation against SMS spammers, robocallers and telemarketers.
And the lawsuit they're bringing against Papa John's certainly sounds dramatic. The lawyers say: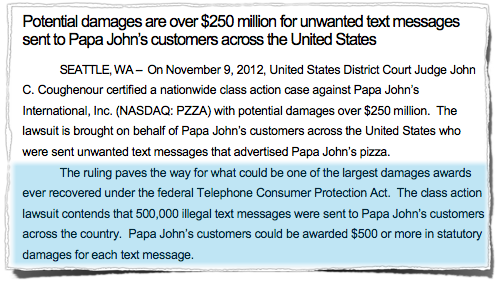 "[This] could be one of the largest damages awards ever recovered under the federal Telephone Consumer Protection Act. The class action lawsuit contends that 500,000 illegal text messages were sent to Papa John's customers across the country. Papa John's customers could be awarded $500 or more in statutory damages for each text message."
An issue seems to be the issue of consent to receive SMS messages. According to court documents:
"OnTime4U [a co-defendant that sent out 'special offer' SMSes on behalf of Papa John's franchise holders] apparently told Papa John's franchisees that it was legal to send texts without express customer consent because there was an existing business relationship between the customers and the Papa John's restaurants."
But the litigators argue that:
"Complaints from ... customers state that they ... received text message advertisements without having given their prior consent to Papa John's or one of the franchisees."
Tricky stuff.
The court has affirmed that the class action can go ahead on behalf of complainants from all over the USA. Even if you received only a single SMS, you're eligible to join in.
Each SMS you received could, if the class action lawyers are to be believed, represent $500 in cash – enough at current prices to order in 1250 Papa's Chicken Poppers, 658 Spicy Buffalo Wings, or a gutbusting 23.5 metres of Cheesestick (20.3 metres of the six-cheese variety).
While you're chomping on your Cheesesticks (which are delivered in handy lengths of approximately 300mm, by the way), here's an interesting irony on the issue of inferred consent for electronic communications.
Heyrich Kalish McGuigan's own privacy policy in respect of email advises that:

Unless you ask us not to, we may contact you via email in the future to tell you about specials, new products or services, or changes to this privacy policy.
What do you think?
Should emails and SMSes to existing customers or contacts be treated differently? In a world of mobile devices on which telephony and internet access are just two sides of the same coin, does this make sense?
Is it OK to have an opt-out policy for your own email-based marketing but to expect others to abide by a strict opt-in policy for SMS-based offers?
Let us know by leaving a comment below…