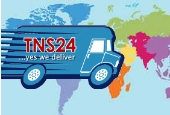 Beware of attractive strangers contacting you on Facebook, and requesting that you help finance a shipment of goods in your name.. you might find yourself out of pocket, with little chance of redress.
A Naked Security reader contacted us recently, worried that they had become the victim of an internet fraud after they were chatted up by a glamorous-looking woman on Facebook.
According to our correspondent:
"She connected with me on Facebook. Her name is [REDACTED], and she is very attractive. She gave me a story and I fell for it, and I sent her £250 through Western Union. She said she had no cards (lies) having my details she sent me papers for a consignment in my name. [REDACTED], the manager of the TNS24 shipping company phoned me after a few days to track the goods from Turkey to a UK port..."

"All she was concerned about was the consignment, then I was required to pay for the warehouse and insurance purposes £2500 which I did to a personal account through Western Union again, the addresses are all wrong, her Facebook account is an empty shell, I know my money is gone.."
We were curious to find out more, and our eyebrows raised when we visited the TNS24 website at tns24.com.
Can you see anything odd?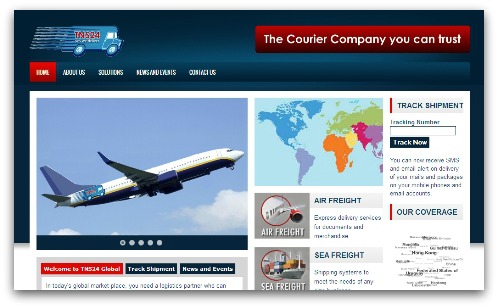 No? Take a closer look.
First of all, there's that photograph of one of the airplanes belonging to the "global courier service".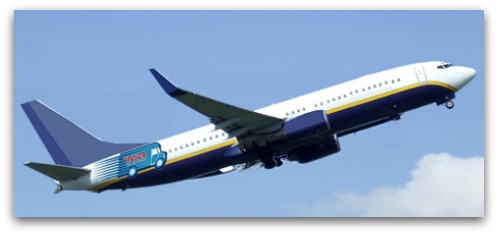 Not got it yet? Let's take a look at this photograph of one of their staff, carrying a package.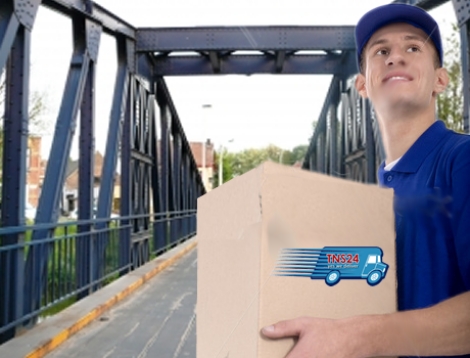 Just to be clear – I haven't added the TNS24 logo to these images. TNS24 want you to believe that their planes and packages really look like this.
Here's one of their lorries: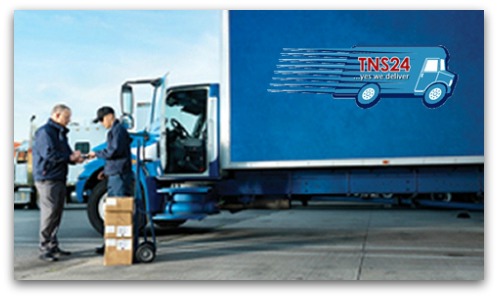 By their (low) standards of Photoshoppery, the lorry's livery is quite good. But still unconvincing.
Most amusingly of all, however, is one of TNS24's alleged ships: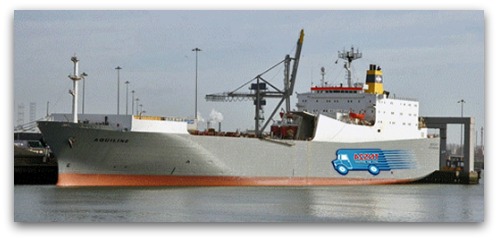 Yes, they really have cut-and-paste the unconvincing TNS24 logo *backwards* onto the side of a boat.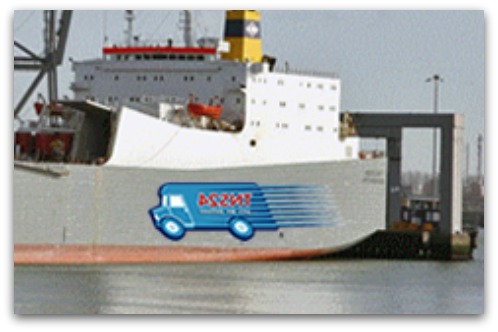 Umm.. guys.. wouldn't it have been easier to mirror-flipped the image of the boat before trying to stick your pixellated logo onto it?
(Thanks to Naked Security reader @tug who has identified the ship as the "Aquiline", and found the original image which does not have the distinctive TNS24 branding.)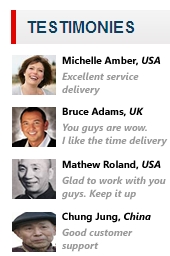 The TNS24 website publishes testimonies from happy, smiling customers – but our suspicion is that these are just as bogus as the photographs used to describe TNS24's staff and vehicles.
If you know where these photos of happy smiling customers come from, please let us know by leaving a comment below. (Of course, if you *are* a happy customer of the TNS24 website, we would love to hear about that too).
And when we tried to contact TNS24 by telephone, using the number they list on their website, all we got was an unobtainable message.
If you needed any more reason to be wary of using TNS24's services (especially if a stranger on Facebook has tried to trick you into believing that you're safe to wire them money via Western Union in order to have TNS24 deliver something) then ask yourself this:
"TNS24's website claims that the firm is headquartered in the UK – specifically in Chatteris, Cambridgeshire. So what does the domain registration for its TNS24.com website say?"
Surprisingly, it's registered at a Nigerian address:
Domain Name: TNS24.COM

Registrant:
Xtrim Technologies
Iheanyi Orji (webmaster@techtrendsng.com)
2 ago palace way
okota
lagos,23401
NG
Tel. +234.08085785120
Mr Orji may have nothing at all to do with TNS24, of course. But it's certainly odd that a UK firm that uses the slogan the "courier company you can trust" would have its website registered to an address in Lagos.
Take care folks. And look out for Photoshop disasters by scammers and fraudsters.