If Apple were to start making Android versions of some of its most popular products that would be pretty big news, right?
So it's no wonder that eyebrows raised when a commenter on Reddit discovered what appeared to be a host of apps created by "Apple Inc" in the Google Play store.
Versions of Garage Band, iPhoto, iMovie, Keynote, Numbers and Pages were listed on the official Google Play store, all claiming to have been developed by Apple Inc and giving a contact email address of android@apple.com.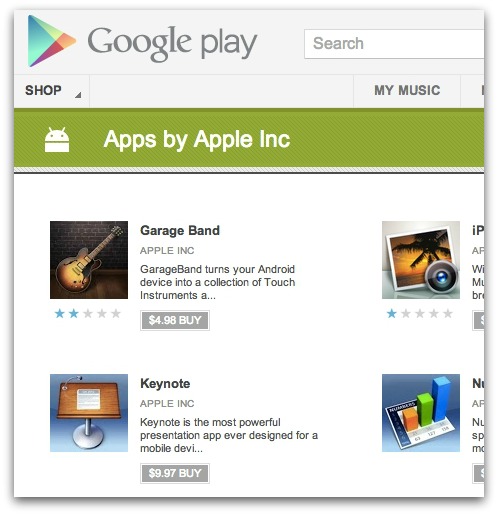 The bogus Apple apps, which were listed for sale at prices between $4.98 and $9.97, have now been removed from the Android marketplace.
What isn't clear is whether this was a scam to simply pilfer money from unsuspecting Android users hoping to get some Apple-created apps on their devices, or whether it was a more sinister attempt to infect Android phones with malware.
Regardless of the motive, it's clear that once again the Android Google Play store has been found falling short in protecting its users, failing to preventing bogus apps from clearly unverified developers from being distributed via official channels.