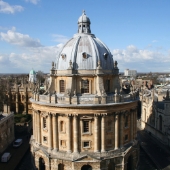 A 20-year-old British man will appear in court next month, charged with attempting to bring down the websites of Oxford and Cambridge universities.
Lewys Martin, from Kent, faces a total of 17 counts following an investigation by Kent Police's Special Branch investigations team, and the Kent Police Digital Forensic Unit.
The charges brought against the 20-year-old relate to denial-of-service attacks on various websites, including a website belonging to the Kent police force, theft of personal data and failure to disclose passwords for encrypted computer equipment.
Martin is scheduled to appear at Maidstone Magistrates Court on December 20th in relation to the charges.
This feels like an appropriate time to remind all readers that denial-of-service attacks are against the law in many countries around the world, and can lead to a jail sentence.
Radcliffe Camera, Oxford image from Shutterstock.