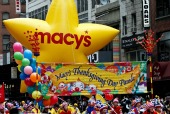 The world's most famous Thanksgiving parade is probably not where you'd expect to find shredded confidential police documents.
But that's exactly what Ethan Finkelstein says he found while enjoying the annual parade in New York City last Thursday, according to an American news station.
Finkelstein told PIX11 he was watching the parade from 65th Street and Central Park West when he noticed some of the confetti stuck to his friend's coat. As they picked it off they noticed it had the letters 'SSN' and a number next to it.
So they gathered some more confetti that had fallen around them. They found other confidential information, such as arrest records and police officers' details, including social security numbers and dates of birth. Some of the documents identified detectives – including undercover officers – by name.
Finkelstein explained:
"There are phone numbers, addresses, more social security numbers, license plate numbers and then we find all these incident reports from police."
There was even information relating to Mitt Romney's motorcade, apparently from the final presidential debate in Nassau County last month.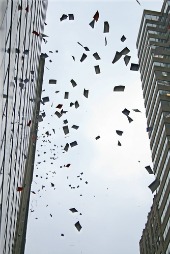 PIX11 spoke to Inspector Kenneth Lack, Commanding Officer, Public Info, who gave this statement:
"The Nassau County Police Department is very concerned about this situation. We will be conducting an investigation into this matter as well as reviewing our procedures for the disposure of sensitive documents."
Macy's denied that the confetti came from them, saying they only used punched coloured confetti, and never shredded paper.
So while we applaud Nassau County Police Department for shredding the confidential papers, how it ended up as confetti remains to be seen.
Macy's Thanksgiving Day Parade image courtesy of Debby Wong / Shutterstock.com
Tickertape parade image courtesy of Shutterstock