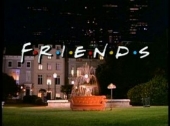 I received an email late last night telling me that the hit American sitcom "Friends", starring the likes of Jennifer Aniston and Matt Le Blanc, would be coming to an end next year.
That's funny. I thought the last series of "Friends" was aired back in 2004?
(Some people argue the show died when actress Helen Baxendale married Ross, and the subsequent clinically unfunny episodes set in England, but lets not get into that debate..)
Here's the email I received: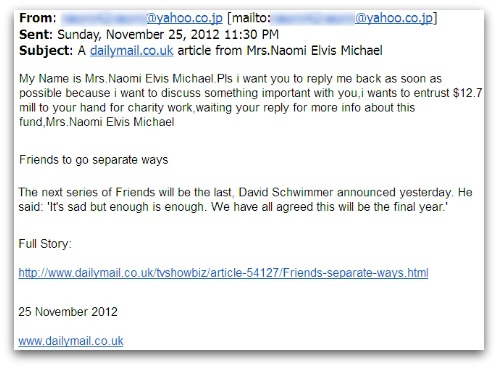 My Name is Mrs.Naomi Elvis Michael.Pls i want you to reply me back as soon as possible because i want to discuss something important with you,i wants to entrust $12.7 mill to your hand for charity work,waiting your reply for more info about this fund,Mrs.Naomi Elvis Michael

Friends to go separate ways

The next series of Friends will be the last, David Schwimmer announced yesterday. He said: 'It's sad but enough is enough. We have all agreed this will be the final year.'

Full Story:

http://www.dailymail.co.uk/tvshowbiz/article-54127/Friends-separate-ways.html
So, what's happening here?
Clearly, someone going by the highly unlikely name of "Mrs. Naomi Elvis Michael" wants to give $12.7 million. All I have to do, she says, is email her back.
Many of us receive such scam emails, promising us riches, every day. And we know to consign them to the trash can.
On this occasion, however, Mrs Michael (I feel it would be too familiar just to call her "Elvis") hasn't sent me the email directly.
Instead, she's used the "Email to a friend" facility on an old Daily Mail article to send me not only a link to an (old) story of the final days of Rachel, Monica, Phoebe, Chandler, Joey and Ross.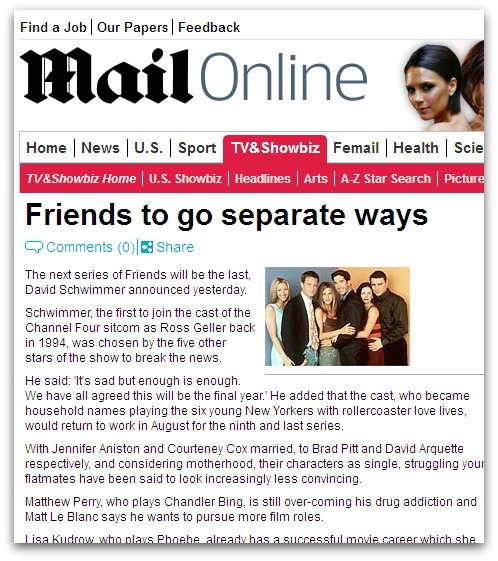 She has also taken advantage of the option to include an "introductory message" to add some words of her own, hoping that I will be foolish enough to believe I could be sent a sizable amount of money.
Maybe she's hoping that I am so excited by the news of my windfall that I don't notice it is wrapped around a news article about a 1990s sitcom.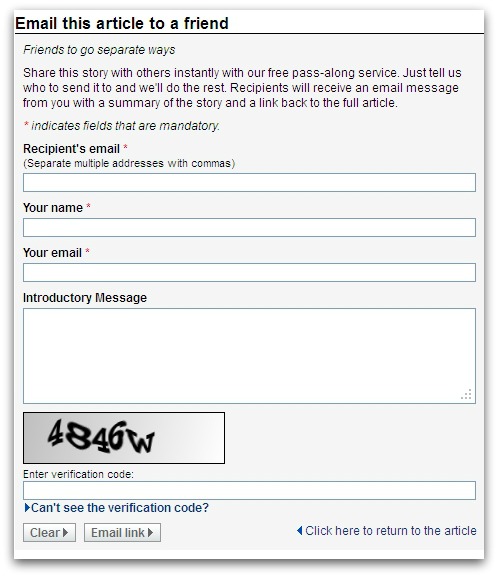 The Daily Mail, to its credit, does include a CAPTCHA field on its "Tell a friend" form, but we all know that these aren't always enough to stop a determined spam campaign.
I'm actually encouraged that spammers and scammers are going to such ridiculous lengths to get their messages in front of their intended recipients. It strongly suggests that they are finding it harder to ensure that enough "eyeballs" see their bogus messages – and that must surely mean that anti-spam defences are getting better and better.