The UK information commissioner has for the first time used its shut-the-hell-up powers to quash the annoyance that is spam text messaging.
Christopher Niebel, of Manchester, and Gary McNeish, now living in Thailand, have been fined £440,000 ($704,308) for sending texts to promote compensation claims for mis-sold personal injury or payment protection insurance (PPI).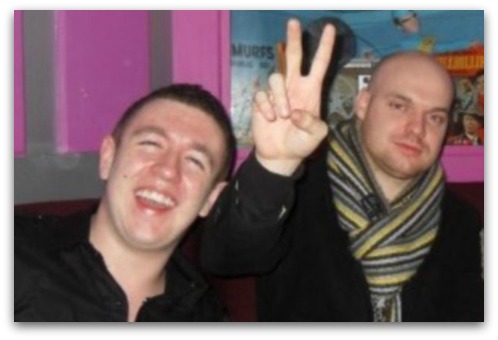 The two are co-owners of Tetrus Telecoms, which used its offices in Stockport and Birmingham to inflict these and other so-called "offers" on mobile phone users:
CLAIM TODAY you may be entitled to £3500 for the accident you had. To claim free, reply CLAIM to this message. To opt out text STOP. Thank you
URGENT! If you took out a Bank Loan prior to 2007 then you are almost certainly entitled to £2300 in compensation. To claim reply 'YES'
You have still not claimed the compensation you are due for the accident you had. To claim then pls reply CLAIM. To opt out text STOP
Oh, to be so lucky as to get the desired results from texting STOP.
Rather, as the Information Commissioner's Office (ICO) describes, texting STOP, or replying at all, can lead to the number being marked as active, which makes it more valuable to list brokers.
Each active number is worth up to £5.
For those who positively reply to the spam, the value of each active phone number shoots up to over 100 times the amount – £500 (US $800) – when it is sold to claims management companies.
Such companies look for compensation cases to hand over to lawyers. Tetrus offered to send more than 800,000 texts a day on behalf of such clients, according to the BBC.
With that type of money changing hands, Tetrus was raking it in.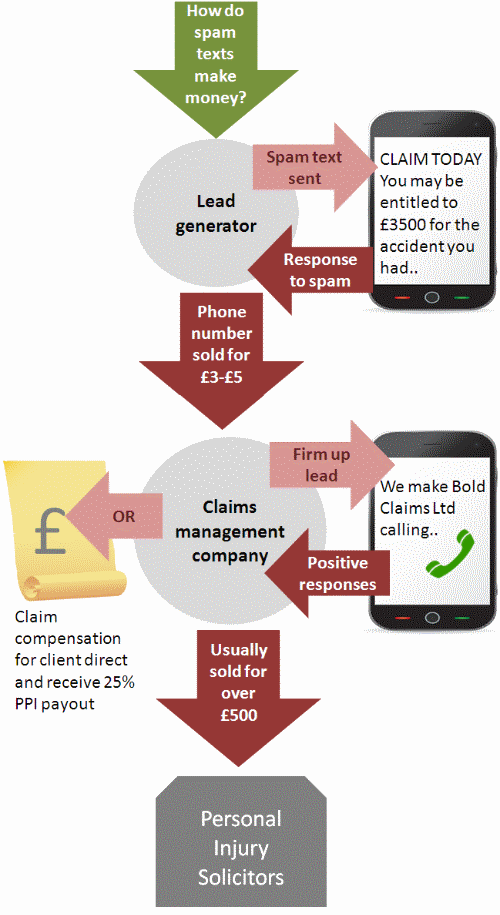 The ICO raided Tetrus's Stockport offices in August 2011 and the Manchester home of Niebel in February this year.
In the raid, agents discovered that Tetrus was making, on a daily basis, between £7,000 and £8,000, using unregistered, pay-as-you-go SIM cards to send out up to 840,000 illegal text messages.
The ICO told the BBC that agents also found handwritten notes suggesting that Tetrus had been using 70 SIM cards a day.
Tetrus employees inserted the SIM cards into a card reader connected to a computer, which would then send SMS messages until it had exhausted each card's text message limit.
Since the company was set up, in 2009, the two co-founders made hundreds of thousands of pounds profit.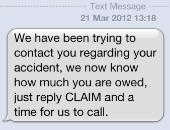 The ICO said that it first got wind of the company in May 2011 when it learned that Tetrus Telecoms was sending "huge volumes" of unsolicited text messages.
Those text messages in turn resulted in the ICO receiving over 400 complaints about spam text directly linked to Tetrus.
Sending such texts without the consent of the recipient and without identifying the sender are illegal under the Privacy and Electronic Communications Regulations (PECR).
Niebel has been ordered to pay a penalty of £300,000, while McNeish, who appears to have taken less profit from the business, has been fined £140,000.
The investigation and resulting fines are the first time the ICO has flexed this particular muscle after having been granted the power to inflict monetary penalties for such crimes in January.
It likely won't be the last, given that the ICO is now contemplating issuing penalties to three other companies it believes are conducting illegal marketing.
Information Commissioner Christopher Graham said that his office is responding to a flood of complaints, with an ICO survey tallying 60,000 responses, and counting, from people who've been pestered by such marketers.
He said:
"The public have told us that they are distressed and annoyed by the constant bombardment of illegal texts and calls and we are currently cracking down on the companies responsible, using the full force of the law."
"In March we set up a survey on the ICO website so people can tell us about any unwanted texts and calls they have been receiving. So far we have received over 60,000 responses. We know the majority of these messages and calls have been made by companies who try to remain anonymous in the hope they can profit by selling personal information to claims management companies and other marketing organisations. We are using the information provided by the public to identify those responsible."
For his part, Niebel called the ICO's action a stunt, according to Tech Week Europe, saying in a statement that he hasn't seen any evidence yet:
"To date the ICO has not provided any evidence to me and thus the allegations are unsubstantiated... The financial benefit which the ICO have alleged I have received is entirely incorrect."

"It is unfortunate that the ICO have chosen to undertake a publicity campaign in respect of this matter when their allegations, and the conduct of their investigation, have not yet been subject to examination before the Court. I strenuously deny the allegations and I am appealing."
Tech Week Europe couldn't get hold of Gary McNeish but noted that he's been in the spotlight before, having told the Daily Telegraph last year that he purchased numbers and personal data of 750,000 British mobile users from a call centre in India for a few thousand pounds.
Tech Week Europe also turned up a 2009 forum posting from Chris Niebel indicating that Tetrus was sitting on a file with records for "every business in the UK with contact details".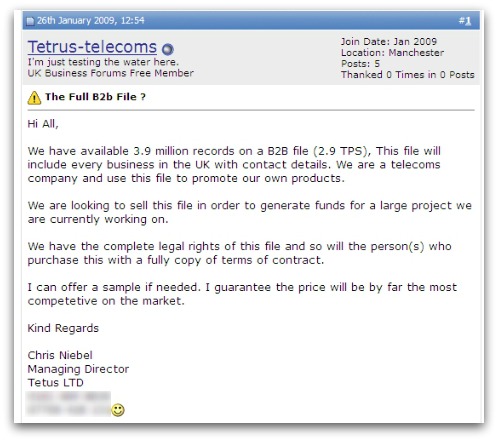 From the forum posting:
We have available 3.9 million records on a B2B file (2.9 TPS), This file will include every business in the UK with contact details. We are a telecoms company and use this file to promote our own products.

We are looking to sell this file in order to generate funds for a large project we are currently working on.

We have the complete legal rights of this file and so will the person(s) who purchase this with a fully copy of terms of contract.

I can offer a sample if needed. I guarantee the price will be by far the most competetive [sic] on the market.
How do we keep from lining the pockets of spam texters?
The ICO's Christopher Graham recommends not responding to text coming from those we don't know, lest our details be used to make money for these "unscrupulous individuals."