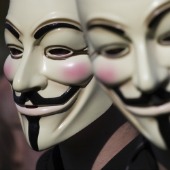 Those claiming to be affiliated with Anonymous have declared war on the internet's most hated man, Hunter Moore, who gained infamy by publishing pornographic photos of people without their permission, in fulfillment of the wishes of their bitter exes.
A statement published on Pastebin called worldwide Anonymous members to action in the name of "[making] a real difference in the lives of hundreds of bullied teenagers and protect [sic] them from real harm such as rape or stalking."
The posting doxes Moore's personal information, including date of birth, address, phone number, parents' names, social networking details, OK Cupid profile, IP addresses, a list of pending lawsuits, and more.
The action, dubbed Operation Anti-Bully/Operation Hunt Hunter, was spurred by Moore's plans to relaunch his revenge porn site.
This time around, the statement says, Moore's service will be replete with details to make it ever more stalker-friendly:

Hunter Moore, Founder of previous revenge pornography site http://www.isanyoneup.com is coming back stronger than ever from the shutdown of his previous website. This capitalist makes money off of the misery of others.

People submit pictures of others naked to his website and he posted their social networking profiles along with the pictures.

This time he is taking it a step further and plans to list physical addresses next to the victims pictures along with a map to their house, self proclaiming that he has singlehandedly enabled the stalking of hundreds.
In an interview with the New York Observer's Beta Beat, Moore did, in fact, claim that he plans to introduce a stalker-friendly mapping feature:
"We're gonna introduce the mapping stuff so you can stalk people... I know - it's scary as sh*t."
He's since backtracked. Moore now blames being blitzed out of his gourd with cocaine and booze for the "semi-lie", as he told Salon.com:
"...honestly, I was so f*cking drunk and really don't remember doing the interview. It was kind of taken out of context of what I'm really doing. For one, I never want anyone to be physically hurt or stalked by any of the stuff I do on my site. And the last thing I want is to have some poor girl's address on the Internet when she's showing me her t*ts and then a bunch of guys going to her house. So I wasn't going to do it like that, and that's how [the article] made it seem, that the submission field would let you submit the address of someone you didn't like."
The "semi-lie" is that he's reserving the address-posting to torment only people who've wronged him personally, he told Salon.com and confirmed to The Huffington Post.
But as Beta Beat points out, even that (sort-of?) scaled-back plan could still pop Moore's plans to protect his activities under Section 230 of the Communications Decency Act, which states that websites are immune from legal responsibility for content submitted by others.
University of Maryland law professor and cyber-law expert Danielle Citron told Beta Beat that by putting up the field for addresses, Moore could be facilitating stalking:
"If he is putting up fields with someone's address and a field ensuring that there's a map to facilitate stalking, I think there's an argument to be made that he is engaging in cyberstalking under federal criminal law... Section 230 explicitly does not immunize federal criminal law violations."
Moore's new site promises to launch with not only newly submitted revenge porn but also all of the old content from IsAnyoneUp.com.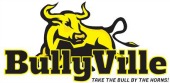 He sold that site to an anti-bullying charity, BullyVille, for a nominal fee in April. The site now redirects to BullyVille.com, which provides a history of IsAnyoneUp and of Moore's legal troubles and alleged bullying incidents, both online and in real life.
It also invites people to join a class action suit against Moore.
As far as Anonymous goes, many are applauding the call to arms against the internet's favorite villain.
But the most cogent thought I've come across regarding this brain-bleed of a story is from twitizen @Ihazcandy: in a nutshell, he or she writes, it's ironic that Anonymous has chosen to enforce anti-bullying with bullying:
wow. #anonymous operation anti-bully?? how can you enforce anti-bullying when it's the tactic you use against your own members? hypocrite?
Although large portions of our heads and hearts will likely rejoice at however the #OpAntiBully operation might hamper Moore's new service, we have to remember that, noxious as he is, he's still a victim, as is anybody who's picked on in the Anonymous modus operandi.
Anonymous masks, courtesy of Rob Kints / Shutterstock.com