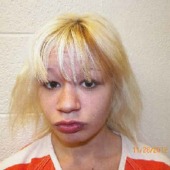 In yet another example of criminals who can't suppress the urge to fill their fans in on exploits via social media channels, a 19-year-old who posted a YouTube video about robbing a bank has been arrested for robbing a bank.
York County police in Nebraska arrested Hannah Sabata at her home in Stromsburg, Nebraska, on Wednesday and charged her with taking part in a Waco, Nebraska, bank robbery and car theft the day before.
Before police arrested her, Sabata took time out to post a video of herself cuddling some plastic baggies, a pipe purportedly full of marijuana, and a pile of what she informs viewers is $6,256 in stolen money.
The video, titled "Chick Bank Robber," [Video] features a silent Hannah holding up handwritten messages as Green Day's "Warning" and "Minority" plays.
The messages tell the tale of stealing a "shiny. SHINY!!" Pontiac Grand Am with a "full bowl of weed." The self-proclaimed Chick Bank Robber assures viewers that she took off the license plates and threw them out, then robbed a bank with a gun, a pillow case and a note.
The reason for all this, she said, was that authorities took away her newborn baby, charging her with neglect, before she could take him home.
Here's the transcript:
I stole from a car a full bowl of weed in an ICP pipe.

and like, an ounce of weed and a couple pre-rolled joints. The other one has already been smoked.

Then I stole a car! (shows the keys) It is shiny. SHINY!!

wait. a**ho|es.

The shiny new car is a Pontiac Grand Am. Of course I already took the license plates off and threw them out.

Then I robbed a bank!! With a gun, a pillow case and a note. $6,256. I told my mom today was the best day of my life She thinks I just met a new boy. (fans herself with the cash)

Why? Because, you see, I am a victim of the government.

How? For one, the whole system is just a game.

Where's my pen? OMG.

But more specifically because the government stole my baby and they took him away before I could even take him home. And they charged me with neglect. I may not be a mother anymore. But I can still find purpose

END.
Police have recovered all but $30 of the stolen money, according to the York News Times.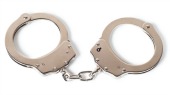 Even without the YouTube video, multiple people identified the suspect as the robber photographed by bank surveillance cameras.
With a search warrant in hand, police found "everything we wanted" at her home, York County Sheriff Dale Radcliff told the York News Times.
When she was arrested, Sabata was wearing the same clothes displayed on the bank's surveillance camera footage, he said:
"At the time of the arrest, she was wearing the same clothes she was pictured wearing during the bank robbery. … Then we found the pink back pack that she was seen carrying in the bank. We also found the sunglasses. It was everything we needed."
The York News Times reports that the sheriff's department has also recovered the stolen car allegedly used during the robbery. It was found in Buckley Park in Stromsburg, without plates.
Near the car, investigators also found a bracelet engraved with the words "I love Hannah."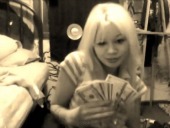 Further evidence includes a text received by her ex-boyfriend saying that Sabata had a lot of money and asking if he wanted to get a tattoo, according to KCCI, in Des Moines, Iowa.
Sabata is in custody at the York County Jail and has been charged with robbery, a Class 2 felony, and theft of a motor vehicle, which is a Class 3 felony. If convicted, she will face a possible maximum sentence of 70 years in prison.
The YouTube video will be submitted as evidence.
Sabata is, naturally, being called a long list of variations on "idiot."
I can't help but feel some sympathy, however, particularly after reading excerpts from Sabata's blog, as published by Starcasm.net. In her writings, Hannah claims a history of emotional trouble, HIV, and yet, still, aspirations to be a lawyer some day.
It's hard to know what to say when watching this slow-mo train wreck of a young life.
Most Naked Security readers already know that anonymity is difficult, at best, when posting material in public, online forums. Cooking up a fake name doesn't cut it in the world of IP addresses.
But it hardly seems appropriate to bring up such a tangential lesson when so much else has obviously gone so very wrong in this woman's life.
An ill-advised YouTube video is just the most public of a long list of bad choices.
Good luck to you, Ms Sabata, and hopefully you can turn things around, somehow.
Handcuffs courtesy of Shutterstock