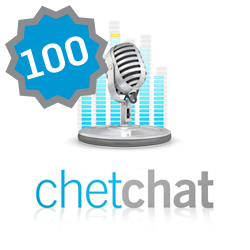 Chester finally brings up his century with Chet Chat Episode 100 – the Benjamin Franklin edition!
(For readers not familiar with US history and culture, Benjamin Franklin was not only one of America's Founding Fathers, but also also a tireless scientist, engineer and inventor. His likeness appears on the US $100 banknote, which is where the "century" connection comes in.)
Chet's guest in the 100th Chet Chat is Paul Ducklin.
The pair discuss a range of recent security issues:
• John McAfee and geolocation data – advice for non-fugitives.
• Website with Dalai Lama connection hit with Mac malware – making sense of the risk to OS X.
• Swiss intelligence agency in huge data theft – terabytes worth!
• NASA loses yet another laptop – find out what they're doing to prevent (yet another) repeat.
• Romanian carders hack 500,000 Australian credit cards – but law enforcement strikes back.
(07 December 2012, duration 15:37 minutes, size 11.3 MBytes)
You can also download this podcast directly in MP3 format: Sophos Security Chet Chat 100. And why not take a look at the back-catalogue of Sophos Podcasts in our archive? We have loads of interesting stuff for your listening pleasure.