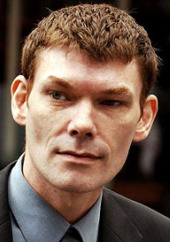 Gary McKinnon, the British hacker who broke into US government computers hunting for evidence of UFOs and fought a long fight against extradition, has been told that he will now *not* face prosecution in the UK.
Keir Starmer, the Director of Public Prosecutions, announced the decision, three months after Home Secretary Theresa May told the House of Commons that McKinnon would not be extradited.
The decision, which is unlikely to go down well with the US authorities, appears to end the controversial 10-year-long saga of Gary McKinnon's fight.
The 46-year-old hacker, who has been diagnosed as having Asperger's Syndrome, has had an impressive support group campaigning for him, with figures such as Sting, London Mayor Boris Johnson, former Beirut hostage Terry Waite, Pink Floyd's David Gilmour, and Julie Christie amongst those who backed his fight against extradition.
And it's not just celebrities. In 2009, a Sophos poll of 550 IT professionals found that 71% believed that McKinnon should not be extradited to the USA.
What do you think of Gary McKinnon escaping charges in both the United States and UK? Is it the right decision? Leave a comment below.
Here are some of the past stories we have written about this fascinating case: