Hoaxes and chain letters never die it seems. There's always someone spreading them unwittingly on Facebook to their family and friends, in the mistaken belief that it's better to share a message "just in case it's true"
Take this example, forwarded to us by Naked Security reader Phil, which claims that Facebook will donate 45 cents per share for a shot boy's surgery.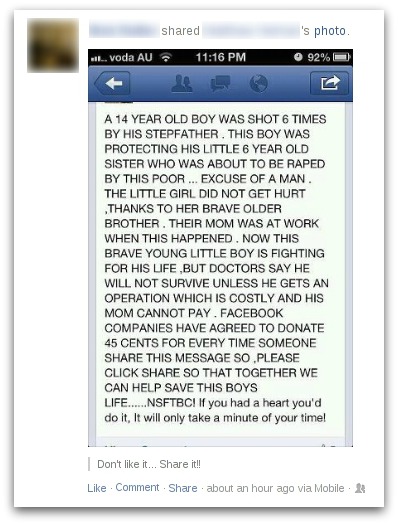 A 14 YEAR OLD BOY WAS SHOT 6 TIMES BY HIS STEPFATHER. THIS BOY WAS PROTECTING HIS LITTLE 6 YEAR OLD SISTER WHO WAS ABOUT TO BE RAPED BY THIS POOR... EXCUSE OF A MAN. THE LITTLE GIRL DID GET HURT, THANKS TO HER BRAVE OLDER BROTHER. THEIR MOM WAS AT WORK WHEN THIS HAPPENED. NOW THIS BRAVE YOUNG LITTLE BOY IS FIGHTING FOR HIS LIFE,BUT DOCTORS SAY HE WILL NOT SURVIVE UNLESS HE GETS AN OPERATION WHICH IS COSTLY AND HIS MOM CANNOT PAY. FACEBOOK COMPANIES HAVE AGREED TO DONATE 45 CENTS FOR EVERY TIME SOMEONE SHARE THIS MESSAGE SO, PLEASE CLICK SHARE SO THAT TOGETHER WE CAN HELP SAVE THIS BOUS LIFE......NSFTBC! If you had a heart you'd do it, It will only take a minute of your time!
Does it ring any bells with you? It should do if you're a long-term reader of Naked Security as we warned of a similar bogus chain letter spreading in late 2011, telling a near-identical story.
There are some differences this time. For instance, rather than a picture of a boy's bloodied torso being shared across the social network, the message is being spread via a mobile phone snapshot.
Presumably the message is being spread in this way in the hope that it will be able to waltz past Facebook's text filtering technologies.
Of course, you shouldn't believe the claim that Facebook is donating any money.
If Facebook were to ever donate money for a young boy's surgery, think for just a moment – would they really be so crass as to base it upon the number of times a message was shared?
Further clues that should tell you that the story is bogus, is that there is no information to support the story of a young boy being attacked or the pay-per-share scheme. There's no link to an official Facebook blog entry, no link to a news story on a legitimate news outlet.
If a friend of yours shares a message with you like this on Facebook, remind them about the importance of not spreading chain letters and suggest that they inform all of their friends that they were mistaken.
Don't forget you should join the Naked Security from Sophos Facebook page, where we not only debunk hoaxes and chain letters, but we also keep you up-to-date on the latest security and privacy issues threatening Facebook users.