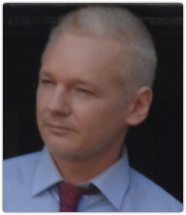 Controversial Wikileaks pinup Julian Assange has been arrested after slipping out of the Ecuadorian embassy in London to seek medical treatment at a nearby clinic.
Or not.
Assange's back-story is familiar by now. Last year, he was on bail in the UK pending extradition to Sweden for arrest on sexual assault charges. But instead of facing the music in Sweden, he popped into the Ecuadorian embassy and asked for asylum. This was granted.
Our self-proclaimed hacktivist was therefore home free, except for the small problem that his new motherland's diplomatic property in London – an apartment in London's upmarket Knightsbridge, across the street from iconic department store Harrods – has no diplomatically-protected access to the outside world.
(Loosely put, Assange would have to exit Ecuador's protection to reach the car park, the nearest point where he could, in theory, get into an embassy vehicle and thus re-enter diplomatic territory. Quite how he would then drive to Ecuador without exiting from the vehicle is left as a thought experiment for the reader.)
Ironically, of course, Assange as good as voluntarily imprisoned himself in an effort to avoid arrest and possible imprisonment. This led to speculation about what might happen if he were to go stir-crazy and require medical attention beyond what the embassy could provide.
Hardly a surprise, then, to see an article pop up on controversial-where-necessary crowd-sourced news site Indymedia UK claiming that Assange had been arrested whilst seeking treatment "at a private medical clinic located just a five minutes [sic] drive from the Ecuadorian embassy."
According to the news piece, allegedly posted by Guardian journalist Conal Urquhart:
Sources close to this reporter have confirmed that WikiLeaks founder and international fugitive Julian Assange has been arrested by Scotland Yard [sic] detectives at a private medical clinic located just a five minutes [sic] drive from the Ecuadorian embassy at Hans Crescent, London. It is believed that Assange had been feeling unwell since before christmas [sic], and after consultation from the in-house doctor he was referred to the specialist clinic. Just before entering the clinic Assange was arrested by undercover Scotland Yard officers who swiftly took him into there [sic] custody. It is beleived [sic] that Assange was then transported to the nearby Chelsea and Westminister [sic] hospital - also in central London. The incident only occured [sic] within the last 45 minutes and details are rapidly unfolding. Even at this early stage it is understood that Assange was being transferred by diplomatic officials from the embassy - and the convey [sic] he was being transported in had diplomatic plates. More information will be made available as it comes in.
Any opinions, publications, comments, information etc [sic] made herein does [sic] not necessarily represent the opinion of this journalist or The Guardian (UK) newspaper.
Conal Urquhart
A brief survey of Mr Urquhart's recent Guardian articles, of course, would quickly reveal several key facts: first, that he knows how and when to use the apostrophe; second, that he is familiar with the difference between adverbs and possessive determiners; third, that he (or at least his subeditor) can spell; fourth, that he can punctuate; fifth, that he understands the rules of number; and sixth, that he is familiar with contemporary English orthography relating to capitalisation.
So whether you're for or against Assange, you can stand down from Wikilert. He's not been arrested. As far as we can tell, he's still learning Spanish in his Knightsbridge flat.
The trolls who posted to Indymedia (which has now relegated the article to "hidden" status for "violating editorial guidelines") have failed.
[How can they have failed when you wrote all this about them? It's enough to make me sic. Ed.]